Vince McMahon Celebrated Birthday With John Cena [PHOTO]
Vince McMahon recently celebrated his birthday and the former Chairman of WWE was spotted having dinner with one of the company's biggest stars ever, John Cena.
When Vince McMahon retired from WWE on July 22nd it was very shocking to many people and it led to WWE's longtime boss walking away from the company he built. McMahon has not been seen in public since his retirement, but he was shown leaving a restaurant after celebrating his 77th birthday on Wednesday.
As part of his birthday celebration, TMZ reported that Vince went to dinner at the Wavery Inn restaurant in New York City for his birthday. Vince was joined by the 16-time WWE World Champion John Cena, who was accompanied by his wife Shay Shariatzadeh.
Vince McMahon celebrated his 77th birthday with his good friend John Cena on Wednesday … in his first public sighting since retiring as CEO and Chairman of WWE last month. https://t.co/iimB0CIE5x

— TMZ (@TMZ) August 25, 2022
While making his retirement announcement, McMahon did reference his age noting he was nearly 77 years old at the time. Here's part of what he wrote.
"As I approach 77 years old, I feel it's time for me to retire as Chairman and CEO of WWE. Throughout the years, it's been a privilege to help WWE bring you joy, inspire you, thrill you, surprise you, and always entertain you. I would like to thank my family for mightily contributing to our success, and I would also like to thank all of our past and present Superstars and employees for their dedication and passion for our brand."
The photo below that TMZ posted showed McMahon raising his arm up to block his face from being photographed. McMahon was accompanied by an unidentified woman.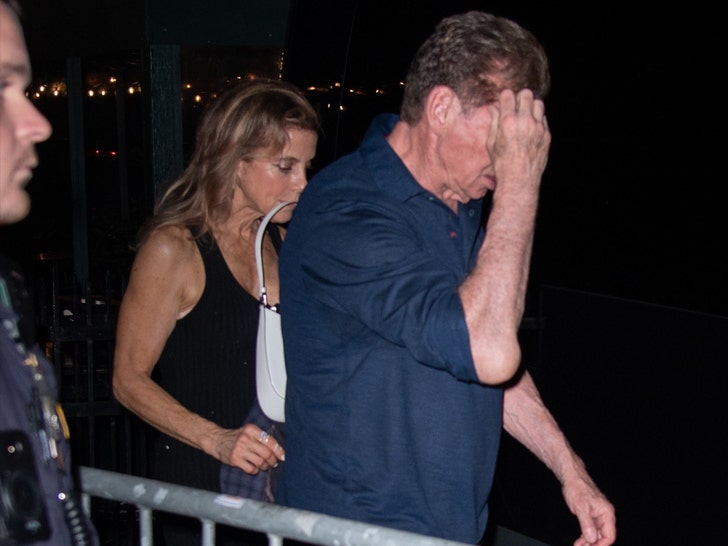 Cena and McMahon have a close relationship going back to when Cena debuted on WWE's main roster in June 2002. McMahon guided Cena's career in WWE over the next twenty years with Cena locked in place as WWE's top guy starting in 2005 when he first won the WWE Championship and Cena was in that top spot for more than a decade after that. Cena has talked fondly about his friendship with McMahon over the years.
McMahon has been embroiled in controversy surrounding investigations into his conduct, which has involved paying "hush money" to former employees and unreported payments (that WWE has since found) totaling nearly $20 million. Due to McMahon's actions, WWE was forced to release new statements reflecting those payments. Despite not working for WWE anymore, McMahon remains the primary stockholder in the company.
The future WWE Hall of Famer Cena last appeared on WWE TV on the June 27 episode of Raw which was a celebration of Cena's 20 years in WWE. The last match Cena had in WWE was at SummerSlam 2021 when he lost a Universal Title match against Roman Reigns. There's no indication of when the actor/TV host Cena may wrestle in WWE again.