Rob Van Dam Thought Vince McMahon's "Durag Look" In ECW Was Cool
Rob Van Dam approved of Vince McMahon's very unique "durag look" during the WWE ECW brand when Vince also held the ECW Championship.
When it comes to getting a crowd to boo him, Vince McMahon would do just about anything as the evil Mr. McMahon character that loved to upset the fans. A good example of that is how Vince looked in 2007 when he was a regular character on the ECW brand.
At WrestleMania 23 in 2007, Vince McMahon chosen wrestler Umaga lost to Donald Trump's chosen wrestler Bobby Lashley in a match that led to Vince having his head shaved. Vince wasn't happy about the loss or his bald look, so his rivalry with Lashley continued.
McMahon would go on to become a regular character on the ECW brand for a few months while adopting a durag look. A durag is headgear that covers the skull, so in Vince's case it was a way to keep his bald head covered up. At Backlash 2007, McMahon became the ECW World Champion in handicap match with Umaga & Shane McMahon as they defeated Bobby Lashley.
McMahon would go on to keep the durag look while carrying the ECW Championship as well. Vince likely knew he looked absolutely ridiculous since he was in his early 60s at that point, but he did it to get heat. Lashley got the title back from Vince about five weeks later at One Night Stand: Extreme Rules 2007.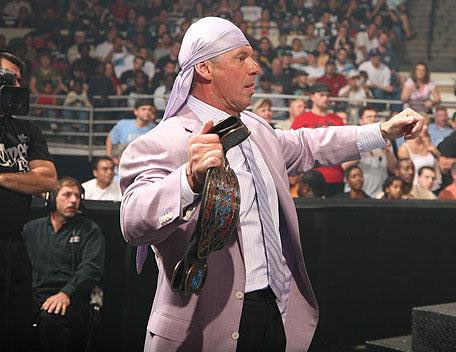 WWE Hall of Famer Rob Van Dam recently talked to WrestlingNewsCo about working with Vince McMahon on the ECW brand and confirmed he was a fan of Vince's extreme look.
"I thought Vince looked really cool in durag. I loved it. I thought that was cool because he's all buff in the black sweater shirt with the sleeves. I loved working with him. I had a match that was three against one. So that was pretty cool."

"I mean, something like that when I think back makes me think maybe I was considered in a much higher position then it felt like at the time because that wouldn't normally be something they would do with like, a mid-carder, or whatever. Sometimes I think of it like that, like, well, that's really cool that I got to work with Vince and Shane and Umaga."
RVD isn't the only former WWE guy that loved Vince McMahon's durag look because Matt Cardona (Zack Ryder) also adopted the look at a GCW show in August 2021. That "tribute" to McMahon got Cardona a lot of heat, which of course was the intent.