Rey Mysterio Jokes About Rumor He Dated Jennifer Aniston
Rey Mysterio has joked about a gossip story that claimed that he once dated Jennifer Aniston.
In the late 1990s, Rey Mysterio and Jennifer Aniston were both very popular people in the worlds they were in. Rey was a masked WCW wrestler that was in his early 20s having some of the best matches out of anybody in pro wrestling anywhere in the world.
As for Jennifer Aniston, she became a worldwide superstar as Rachel Green on the NBC hit show Friends which aired from 1994 to 2004. Since then, she has done very well for herself as a leading actress in movies.
In the April 8th, 1997 edition of the National Enqurier, they ran a "story" that Rey was dating Jennifer. Thanks to WCW Worldwide for the image below.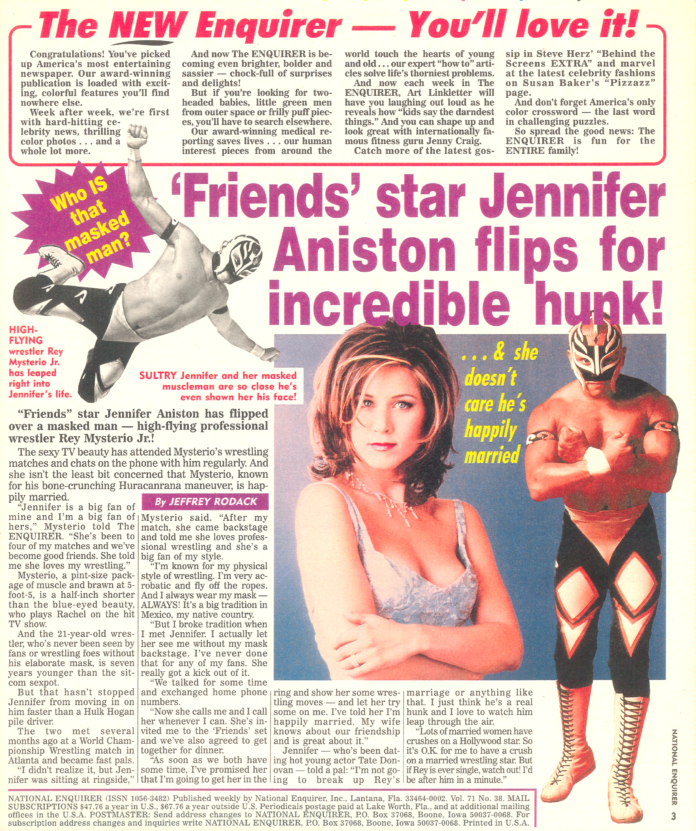 The story wasn't true for what it's worth. That's what the National Enquirer does, so it was a case of Rey Mysterio getting some more fame just because he was linked to Aniston.
During an interview with Logan Paul on his Impaulsive podcast, the WWE Hall of Famer Rey Mysterio had a joke reply when asked how long they dated: "About a week."
Rey continued: "That was crazy. National Enquirer. They just threw it out there."
When asked if he liked being in the public eye all the time for so many years, Rey Mysterio made it clear he likes living a private life.
"No. I like having my privacy. I'm very low key. When I chill with my family, I don't like to get mugged or be signing shit. Even when I'm on vacation. I get mobbed sometimes so much by the staff of the hotel and the hotel is taking care of us, and sometimes it gets to be too much. I don't mind when I'm working, but I'm on my time off [indicates he wants to chill]."
Rey and his wife Angie have been together for most of his pro wrestling career, which he proudly revealed during his recent WWE Hall of Fame induction. They have two kids together, Rey's current WWE rival Dominik and a daughter named Aalyah. At least the couple didn't name her after Jennifer Aniston.