Mick Foley Explains Why Sable Should Be In WWE Hall Of Fame
Mick Foley believes that former WWE Women's Champion Sable should be in the Hall of Fame and he explained why on his recent podcast.
The WWE women's division in the late 1990s going into the Attitude Era was not like it is today. Instead of having longer matches with multiple titles on the line, WWE didn't even have a Women's Title for a few years. The title was brought back in September 1998 and Sable won the title from WWE Hall of Famer Jacqueline at Survivor Series 1998.
Another WWE Hall of Famer, Mick Foley, believes that Sable should be a HOFer as well due to her immense popularity. Anybody that watched WWE during the Attitude Era will remember that the blonde bombshell known for her "Sable Bomb" was cheered as much as anybody other than perhaps the top star, "Stone Cold" Steve Austin.
Foley explained why he thought Sable deserved the WWE Hall of Fame honor on a recent episode of his Foley is Pod podcast.
"Sable undoubtedly deserves to be in the Hall of Fame. I think it's just a matter of when and if, but definitely, she was one of the most over women of her generation."
When Sable first appeared in WWE, she was brought in as a valet for Hunter Hearst Helmsley, which was just a storyline to pair her up with "Wildman" Marc Mero. That's because Sable's real name at the time was Rena Mero since she was married to Marc.
Sable's popularity grew a lot in 1998 after Mero turned on her. It would lead to her appearing in Playboy magazine multiple items, including one of the best-selling issues ever at the time. Following her WWE departure in 1999, she sued the company for $110 million over claims of sexual harassment and unsafe working conditions. They would eventually settle out of court for an undisclosed amount in August 1999.
In April 2003, Sable returned to WWE (a shocking move considering the lawsuit four years earlier) for another run that lasted until August 2004. During that run, she had rivalries with Stephanie McMahon and Torrie Wilson while also being paired with Vince McMahon as his love interest. Her marriage to Marc Mero ended up in divorce while she was in WWE because she was dating Brock Lesnar, who she married in 2006. Sable and Lesnar have two sons together along with her daughter from a previous marriage before she was married to Mero.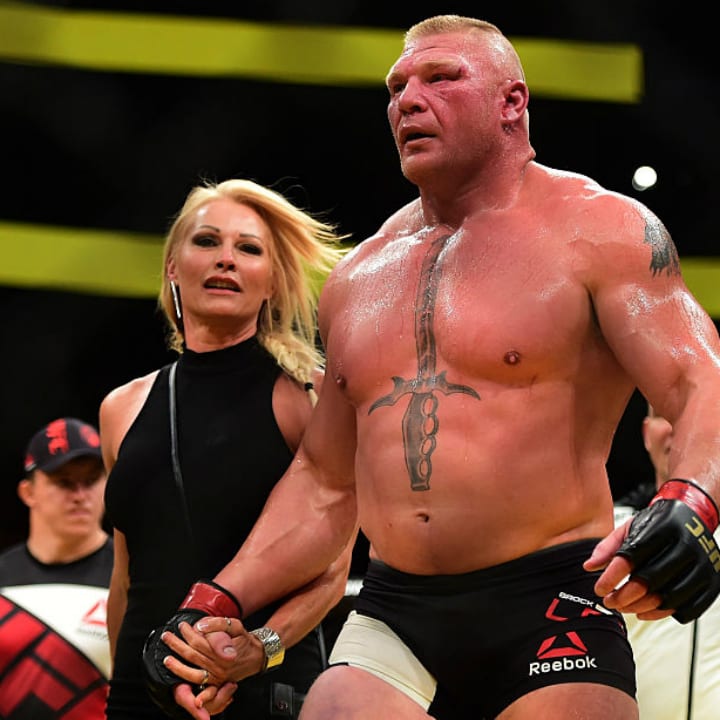 During Lesnar's run in the UFC, Sable appeared at ringside during his fights. However, she has never appeared on camera during Lesnar's WWE matches since he returned to the company in 2012.
The WWE Hall of Fame ceremony takes place during WrestleMania weekend every year so if Sable is inducted into the Hall of Fame like Mick Foley suggests then it could happen during WrestleMania 39 in Los Angeles next spring.