Hulk Hogan has gotten married for the third time after having a private ceremony on Friday in Florida.
Two months after announcing his engagement, Hulk Hogan has married Sky Daily, according to TMZ.
The wedding between Hulk Hogan (real name Terry Bollea) and Sky Daily took place on Friday, September 22nd at the Indian Rocks Baptist Church in Clearwater, FL.
The report from TMZ says that the rings for the newly married couple are valued at $500,000. The story from TMZ also noted that the wedding was very last minute because the couple really wanted to make it official.
It was apparently a small wedding with just close family in attendance. Hulk Hogan's son Nick Hogan was there along with his girlfriend while his daughter Brooke was unable to make it on short notice. Nick and Brooke's mother is Linda Bollea, who is Hulk's first wife. Daily has three children and they were at the wedding as well.
These photos of the newly married couple were shared by TMZ.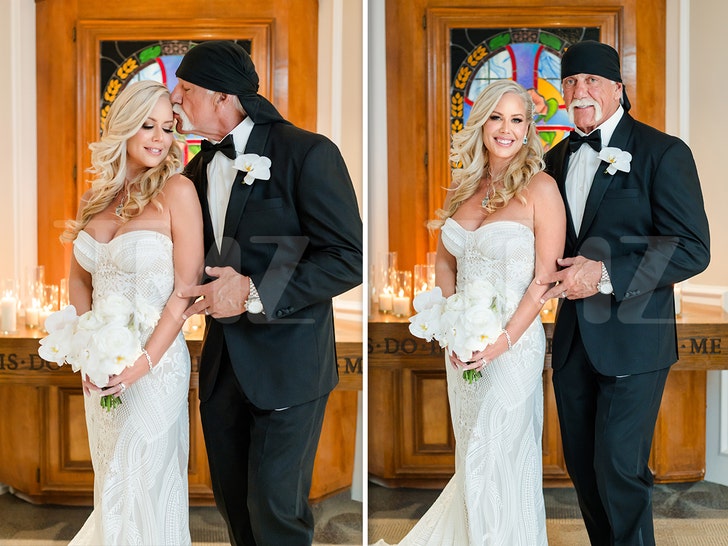 If you're wondering about the age difference, Hulk Hogan is 70 years old while Sky is 45 years old, so there's a 25-year age difference between them.
Hulk Hogan wants to see The Rock wrestle again
During his pro wrestling career, Hulk Hogan was arguably the most famous pro wrestler ever while he was competing in the ring. Hogan is a two-time WWE Hall of Famer who was the top guy in WWE from 1984 to 1993 and then he went to WCW in 1994 while leading that company to their greatest heights.
Recently, Hulk Hogan made it clear that he really wants to see The Rock competing in a WWE ring again.
"Rock's in great shape, better than I was, and he is so smart inside the ring. It would be great to see him come back. It would be bigger than him, too. It's something that would be significant for everyone in wrestling."

"Even though he hasn't wrestled in a while, if he goes out there, Rock is going to tear that place down. Good luck to anyone trying to follow that match."
Everybody at TJRWrestling congratulates Hulk Hogan on his wedding while suggesting that he doesn't ask his good friend Ric Flair for marriage tips.