Dominik Mysterio Given New Nickname On WWE Raw
Dominik Mysterio isn't just an ex-con that gets booed loudly by WWE fans, but he's a man with a nickname that represents the kind of man he is.
There's a new nickname for Dominik Mysterio of The Judgment Day. On the July 3rd episode of Raw, WWE clearly wanted fans to know that new nickname because it appeared on a graphic while the announcers mentioned it several times too.
It isn't just Dominik Mysterio that is part of The Judgment Day group, it's "Dirty" Dominik Mysterio.
During the second segment on Raw, The Judgment Day's Mr. Money in the Bank Damian Priest, Women's World Champion Rhea Ripley and "Dirty" Dominik Mysterio (Finn Balor appeared later in the show) exchanged words with Seth "Freakin" Rollins, the WWE World Heavyweight Champion.
That promo featured Priest threatening to cash in the Money in the Bank briefcase at any time on Rollins, who didn't seem too worried about it. When Dominik Mysterio tried to speak, the fans booed him loudly. It would lead to Rollins setting up his match against Dominik without the World Heavyweight Title on the line.
As you can see below when WWE showed a graphic for the match, they added "Dirty" to Dom's name as well.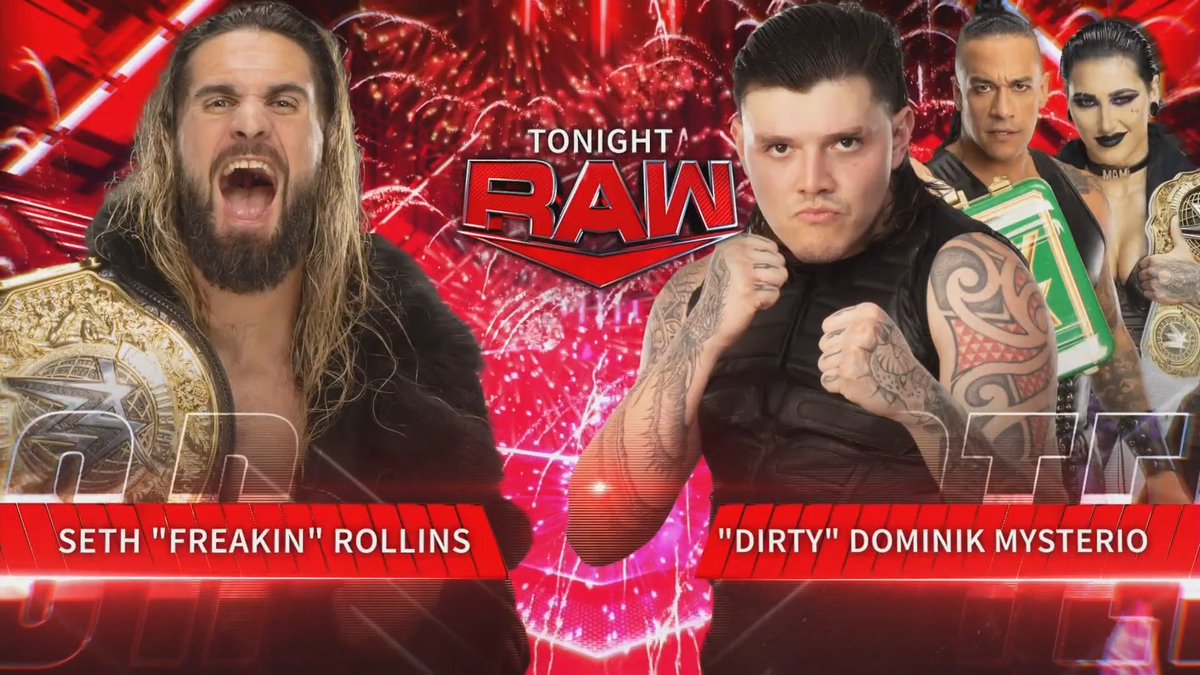 When the Rollins-Mysterio match took place in the main event, Dominik wasn't announced as "Dirty" Dominik Mysterio although the announcers did continue to call him that every time he appeared on screen. Clearly, it's a nickname that WWE likes.
The Rollins-Mysterio match ended in a disqualification when Damian Priest interfered. When Priest tried to cash in Money in the Bank on Rollins, Finn Balor showed up and knocked Rollins into Priest to prevent a cash in attempt. Dominik tried to calm Priest & Balor down since they argued about what happened.