Ex-WWE Referee Recalls Brock Lesnar's Infamous WrestleMania Landing
A former WWE referee has recalled what it was like standing in the ring while Brock Lesnar jumped off the top rope and landed right on his head!
When it comes to memorable match endings in WWE, what happened at the conclusion of the WrestleMania 19 main event stands out due to what happened to Brock Lesnar.
The main event of WrestleMania was a dream match for many people because it was the first that WWE Champion Kurt Angle would wrestle Brock Lesnar in a singles match on television. Lesnar debuted on WWE TV one year earlier and this was his first WrestleMania. By this point, Angle was already established as one of the best wrestlers alive even though he was still only four years into his career.
Brock Lesnar had dominated everybody in his path for a full year by using the F5 as a finisher. Lesnar proved he could do the move on anybody, event giants like The Undertaker and Big Show.
During the WrestleMania 19 match, the finish was going to be something we hadn't seen Lesnar do on WWE TV before. It was a Shooting Star Press off the top rope. It's a move that Lesnar had been doing for a few years like when he was in Ohio Valley Wrestling prior to his start on the main WWE roster.
After Lesnar hit Angle with an F5, he decided to go up top. When Lesnar jumped off, he did the flipping part of the Shooting Star Press and was upside down, but then when he landed, he came up short. Lesnar landed right on the top of his head. Angle was able to avoid taking the punishment. Angle covered only for a two count and moments later Lesnar hit another F5 to get the win to become the WWE Champion for the second time.
Former WWE referee Mike Chioda was the referee in that match and was literally standing a few feet away as Brock Lesnar landed headfirst into the mat. Chioda talked about it on a recent Monday Mailbag podcast
"Oh my god. Let me tell you — nowadays, they would call a match [on the fly] but it wasn't so back then. Did I almost feel like calling that match? Brock's eyes were glazed, man. I've seen it firsthand, of course. I'm in the ring, and the way he landed, I was like, 'Woah!' I went up to him, and his eyes were already glassed and he was dazed. Thankfully, he got through it."
Brock Lesnar talked about it in March 2022 on the Michael Kay Show as well.
"That was foolish on my behalf. So you get people, producers, and people from higher up in the company that they always want this WrestleMania moment. And this would, you know, be fantastic and so I practiced it the night before. I was doing it in Ohio Valley Wrestling when I was being trained. So I'm a 310-pound man, six foot three, doing a front backflip off the top rope and landing on my opponent and winning matches.

"Mr. Perfect, Curt Hennig, bless his soul, he said 'you don't need to do that, you know? Stop doing that.' And thankfully, I didn't break my neck or anything like that. But I shouldn't have done that move. I finished the move, I had a concussion. Or I finished the match, I had a concussion. But thankfully, I didn't (break my neck), that was the worst of it."
If you've never seen Brock Lesnar hit a Shooting Star Press correctly, here's a GIF of him doing it during a Raw dark match.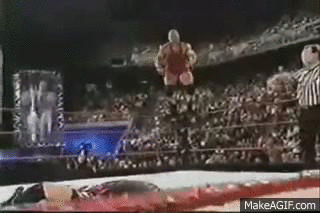 H/T WrestlingInc for the Chioda and Lesnar quotes.