Brandi Rhodes – "Cody Looks Ready To Me But I'm Not A Doctor"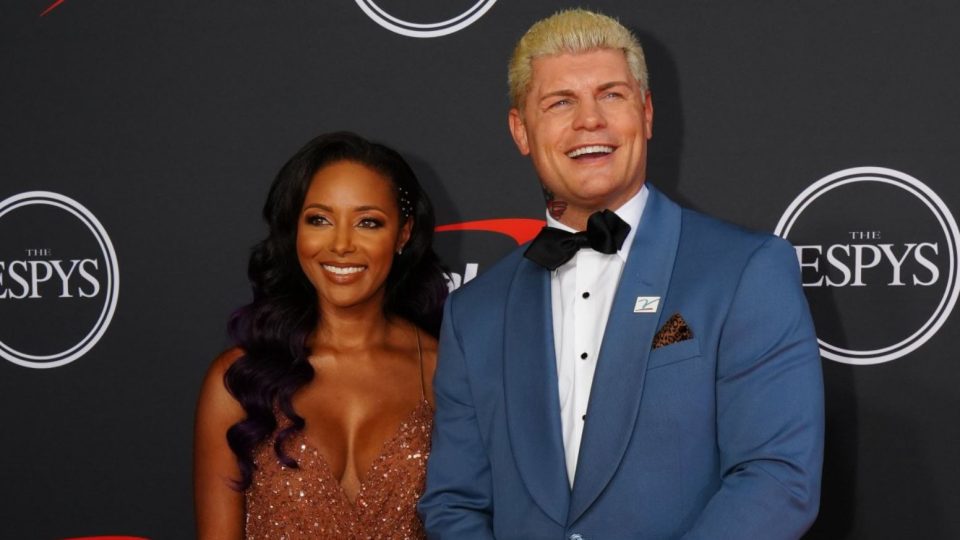 According to Brandi Rhodes, her husband Cody might not be out of action much longer!
Cody Rhodes hasn't been seen on WWE programming since facing Seth Rollins inside Hell in a Cell back in June. Prior to their bout, Cody suffered a torn pectoral muscle, and his injury was impossible to miss as heavy bruising covered his right side. Despite the injury, Rhodes put on a hellacious performance in the match, and in the end, he was victorious over Rollins. The next night on Raw, he addressed the crowd about a possible entry into Money in the Bank, but Rollins once again attacked him, and he hasn't been seen on WWE programming since.
Speaking in a new interview with Steve Fall's Ten Count, Cody's wife Brandi Rhodes addressed the status of her husband's injury and his rehab process, noting that she finally accompanied him to an appointment.
"He needs to wrestle. It's in his blood. It's part of his makeup. But now, he's been great through all of this. All of the work that he's been doing to get back has been really good. I went with him to his physical therapist yesterday to finally see because he's been ragging on me the entire time, 'You haven't come, you haven't come, you have to come.' So I'm like, 'Okay, I'm coming to see.'"
Continuing, Brandi Rhodes said that she's impressed with her husband's progress and that he looks to be in great shape just as he did before his injury.
"I was really just impressed with how he looks now. He doesn't look like anything happened which is crazy because he had major surgery. So he looks like the same Cody to me. The muscle mass is all there, you know, he looks ready to me, but I'm not a doctor."
Back in September, Cody Rhodes revealed that doctors hadn't given him a timeline for his return as they didn't want him to try to test his limits and return too soon.
h/t WrestlingNews.co