WWE WrestleMania 39: 6 Thoughts
A closer look at some of the big things that happened at WrestleMania Goes Hollywood aka WWE's 39th WrestleMania event.
I took my time before writing this to collect my thoughts. If I would have written this last night, it probably would have been a lot different. Anybody who follows me knows how pro-WWE I am and I defend some of their indefensible decisions. With that said, about 95% of this article will be talking about WrestleMania 39 as an all-time great show. It's that 5% that gets me. I loved the show. Both nights had their share of great matches and big moments. I'd say Night One was better than Night Two but I still enjoyed it overall.
#6: REY MYSTERIO DEFEATS DOMINIK MYSTERIO
This was a blast. I know all the hate Dominik gets, but I don't care. He's killed it since turning heel and joining The Judgment Day. The prison entrance, Rey coming out in a lowrider with Snoop and Eddie's music. I was loving it before the bell even rang.
Dominik should have silenced a lot of doubters with his performance. Sure, his three amigos are still pretty bad and the 619 wasn't perfect but Dom did his job. He got a lot of heat and made the fans care about him getting his ass kicked. This is probably the most invested a crowd has been in a Rey story in years. Not because of his lack of skill but because WWE just hasn't given him a whole lot to work with. I loved the LWO and Judgment Day interaction. Santos is a star and it's great seeing him get that moment. Dom tried to win with a chain that Priest conveniently left on the apron but Bad Bunny took the chain away.
I'm assuming this leads to some match between Bad Bunny and Dominik at Backlash in Puerto Rico. I'd bet that it's probably Priest and Dom versus Bad Bunny and Rey Mysterio. Rey gets his moment and celebrates with his family. I thought Dom might win, but I'm glad they went with Rey.
#5: RHEA RIPLEY DEFEATS CHARLOTTE FLAIR TO BECOME SMACKDOWN WOMEN'S CHAMPION
This was always the intended result and I am glad it played out the way it did. This should've been the result of WrestleMania 36 but honestly, I think it's better now because Rhea is a way more polished performer than she was three years ago.
The match was great and easily the second-best match of the night. It had everything and Charlotte proved once again why she gets the accolades she does. She is one of the best big match wrestlers in the world and I'll die on that hill. It was expected that it was going to get a lot of time. Rhea has been great ever since joining The Judgment Day.
This was probably my favorite match of theirs, even more than their Money in the Bank match. I would have preferred Bianca and Rhea, but Rhea needed to exercise her Charlotte demons and I think she did that.
#4: GUNTHER RETAINS HIS INTERCONTINENTAL TITLE
This was a hell of an 18-minute match between three of the best wrestlers in the world. Gunther has been booked nearly flawlessly since he won the Intercontinental Title last year. There were moments when I thought Sheamus and Drew McIntyre could have won it. I'm glad Gunther did it because I want him to beat the Honkey Tonk Man's record.
I know Drew's status is uncertain regarding his contract this year, but if that was his last WrestleMania, he went out with a bang. I think eventually Sheamus should be the one to take that title. It's the only one he hasn't won. I just don't think it is Gunther's time to lose it, yet. Have him beat that record before he loses it.
Gunther is easily the most consistent wrestler in the world right now as far as the total package. I'm very interested to see where things go from here.
#3: EDGE DEFEATED FINN BALOR IN HELL IN A CELL
This was a pretty good Hell in a Cell that likely got cut due to the injury to Finn Balor. I loved Edge's entrance. I get that he was labeled as "Brood Edge" but other than the entrance, there was no Brood elements. No music. No Gangrel. I enjoyed Balor's entrance. I loved the integration of the purple to his demon look to match The Judgment Day look.
The match was solid. I liked incorporating that platform in the cell for Balor to jump from. The missed Coup De Grace through the table was an insane spot. I hope Finn's feet and legs are okay after that spot. I wanted Finn to win, but I understand the call to put Edge over. It could be his last WrestleMania as he has hinted at retiring this year. It also fits the story because The Judgment Day hit a conchairto on his wife, Beth. So ending the match in a similar fashion was fitting. I think Finn will be fine moving forward. I'm interested to see what is next for these two.
— Sami Zayn (@SamiZayn) April 3, 2023
#2: KEVIN OWENS AND SAMI ZAYN DEFEAT THE USOS TO BECOME WWE TAG TEAM CHAMPIONS
Those of you that complained about Sami Zayn losing to Roman Reigns at Elimination Chamber should be pretty quiet about now. A year ago, Sami was wrestling in a comedy match against Johnny Knoxville. Granted, it was one of my favorite matches of the weekend but it was a match that didn't have a lot of priority within WWE. This Bloodline story has given Sami the kind of spotlight we all thought he should have had when he arrived from NXT. His character work over the last 8 months has been phenomenal.
Kevin Owens main evented his second straight WrestleMania. I still remember those who posted that picture of Owens with his head on the turnbuckle some 18 months ago and swore that he was just counting down the days until he could join his friends in AEW. Those tweets did not age well. Just about everything in this Sami story has been booked to perfection. I told everyone from the start that this was never about Sami and Roman. It was always about Sami and Jey Uso. That was the story that needed to pay off at WrestleMania and It did. Who did Sami pin to win the titles? Jey Uso.
The story told within the match was spectacular. There were several moments I thought the Usos had it. Having Sami kick out of the 1-D, which nobody had done since the Usos adopted that as a finish, was a smart move. I believe Chris Sabin was the first person to kick out of it when The Dudleys used it as the 3-D. It was all perfectly laid out. Having Sami hit three Helluva kicks on Jey sealed it. This is what a proper payoff looks like. The last nine months of this story paid off in a beautifully crafted 24-minute match that left me breathless on more than one occasion. Good story and great wrestling. That's all I ask for and I got it.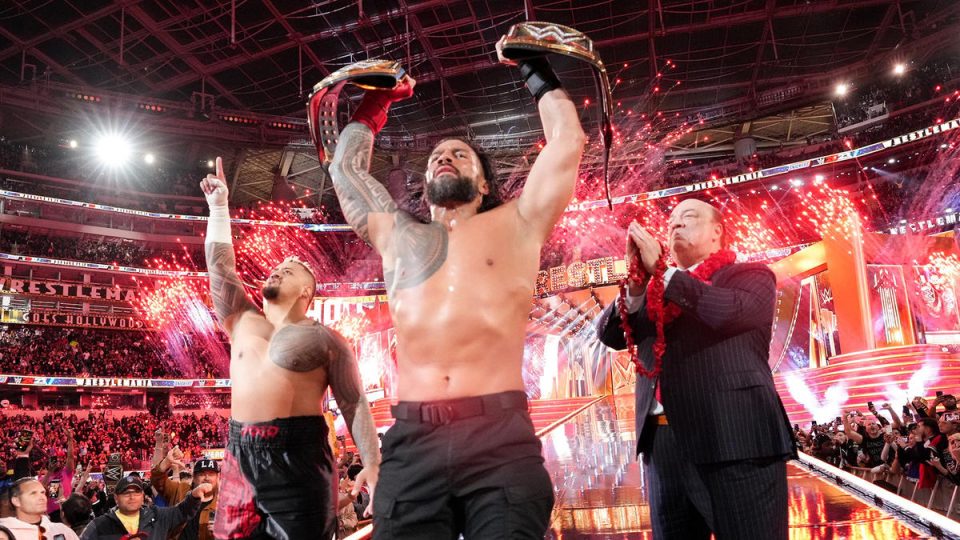 #1: ROMAN REIGNS DEFEATS CODY RHODES TO RETAIN THE UNDISPUTED TITLE
Here's that 5% I mentioned earlier. Let me get this out of the way. I LOVED the first 25-30 minutes of this match. It was drama. It was storytelling. Everything I wanted it to be. The crowd was into everything they did. They erupted when Solo was kicked out. I tweeted early in the match that he was getting more involved early on than he usually does and thought it was weird. I guess this is why. You knew the Usos were coming out to interfere but I thought Sami and KO getting their revenge on Roman was perfect. It was set up SO PERFECTLY to cap off this story. They sold me a ticket on those multiple Cross Rhodes. Then, of course, Solo comes back out with the Samoan Spike. Roman then goes coast to coast and nails a Spear for the victory.
With all due respect, this is up there with Steve Austin turning heel at WrestleMania 17 as one of THE worst endings to a WrestleMania I've ever seen. It's up there with Hulk Hogan at WrestleMania 9. You had EVERYTHING right there. It was all there and you screwed it up and why? So Roman can get 1,000 days? Newsflash, that number means nothing to the average or hardcore fan. Bruno, Backlund, and Hogan are still way ahead of him so what is it for? You had a handpicked guy in Cody Rhodes. You haven't had a handpicked guy as over as Cody since John Cena left. Your most popular top stars have all been in spite of you and not because of you. You finally had a guy that YOU chose to be in this spot. They didn't rebel against Cody for Sami as they did Batista for Daniel Bryan. You had it right there in front of you and you blew it.
I love Roman Reigns. He is clearly the biggest star in the business. I love The Bloodline story. It is going to be interesting watching them implode. You didn't need Roman to be the Undisputed WWE Universal Champion for that to happen. WWE's inability to pull the trigger when it matters most is always their biggest flaw. You had the perfect chance to make your next big babyface, which they've struggled to do since Cena left. You not only dropped the ball, you dropped it and as you tried to pick it back up, kicked it 100 yards down the field to your own endzone. WWE will never have an opportunity to do this again. Sure, Cody could win it at SummerSlam, but it will never be as big as it could've been last night. Last night was the most slam dunk decision and they bounced the ball off the rim.
I made the analogy yesterday of the New World Order. As popular as the NWO was, one of the main issues they had was that nobody took them down. They kind of just disbanded. They had a chance with Goldberg but they dropped it with his Starrcade loss to Kevin Nash that he NEVER got his revenge for or another Title run. They had their chance with DDP but he didn't win the Title until after the NWO was pretty much done and then he turned heel shortly after. They had their best chance with Sting, but he never got it because he didn't have a damn tan. Hulk Hogan never got what he deserved. You also had Triple H from 2002-2005. Nobody ever took Evolution down. They just kind of disbanded. The Bloodline is dangerously close to that.
They can't have The Bloodline just disband. They have to be taken down. Cody Rhodes was the guy to do it. I have faith in the current regime, but last night was the biggest L of his run. Hopefully, WWE can rebound from it.
QUICK THOUGHTS
Austin Theory defeated John Cena: It's good for Theory to get that win over Cena, but I thought the match should've been more. Hopefully, they can follow up.
Street Profits win the Showcase: The Street Profits are amazing. Seeing Montez Ford every time always amazes me. Seeing, Ricochet do that Shooting Star Press on the outside was insane. Give that man a push. Montez too.
Seth Rollins defeats Logan Paul: Logan Paul continues to amaze me with how good he is with his little experience. Seth Rollins did his best to make Paul look like a star and he did. Seth should be moved back up to the main event.
Becky Lynch, Trish Stratus, and Lita defeat Damage CTRL: The build was decent. I thought there would be a Trish heel turn. I assume that comes later. Hopefully, they have something interesting planned for Damage CTRL.
Ronda and Shayna win the Women's Showcase: It was okay for what it intended to be as a match under ten minutes to get some talented people on the show. Ronda must still be injured because she didn't get involved.
Bianca Belair defeats Asuka: The build wasn't that good, but the match was great. Bianca continues to deliver at WrestleMania.
I definitely think Night One was better than Night Two, but I think both nights delivered. The important thing is how they follow up. The deal with Cody has to be in place to avoid him looking like Lex Luger in 1993 after he failed to beat Yokozuna. Do I think they can do it? Yes, I do, but for all the jubilation we felt after Night One, we felt equal disappointment after Night Two.
I'm willing to let it play out but overall I'll give WrestleMania 39 an 8/10.
===
Thanks for reading. Check out my TJRWrestling writing archive here. I'm on Twitter @GiftedMoney talking about wrestling among other things, so feel free to message me on there with any thoughts or comments. Until next time.