TJR: Why Bayley's WWE Women's Title Win Should Have Been A WrestleMania Moment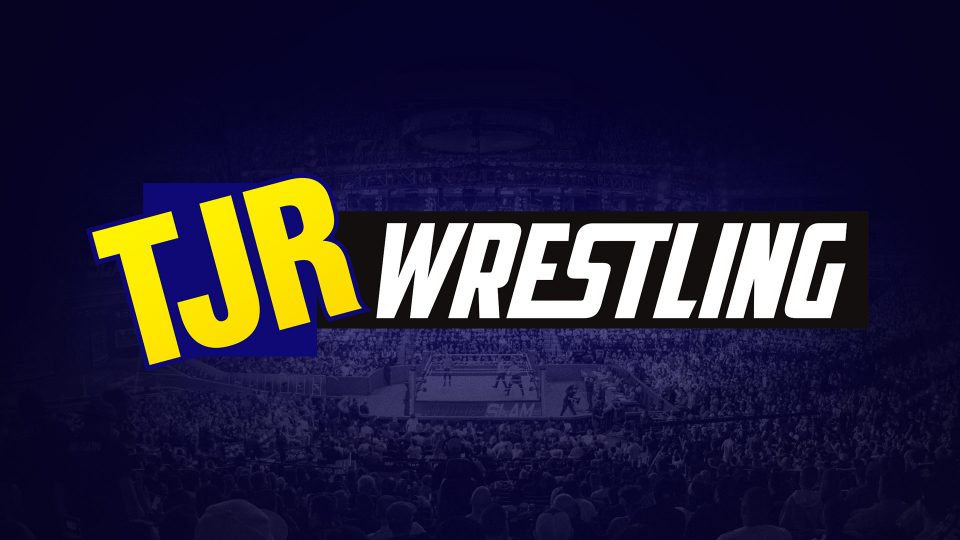 Bayley won the WWE Raw Women's Championship from Charlotte Flair this past Monday night February 13 on Raw in Las Vegas. While it was a great moment to see a title change by two women in an awesome main event match, my feeling is that the timing was off.
Bayley and Charlotte deserve a lot of praise for the match, but it was also controversial. Bayley nearly had the match won with a Figure Four Leglock when Dana Brooke showed up at ringside and gouged her in the eyes, which the referee didn't see. That allowed Charlotte to apply the Figure Eight submission. Sasha Banks went down to ringside, hit Brooke in the back with a crutch (since Banks is storyline injured) and Banks also hit Charlotte with a crutch while Charlotte was applying the Figure Eight. The ref never saw any of it. Charlotte let go of the hold because Banks attacked her, so Bayley capitalized with a Bayley to Belly Suplex for the win.
I wrote in my WWE Raw Deal review of the show that they should have had heel Commissioner Stephanie McMahon say that Bayley's win doesn't count because Banks attacked Charlotte. Show the replay, have the ref reverse the decision and end the show that way as fans wonder if the ruling will hold until next week's Raw. It might anger some fans, but so what? Wrestling is about having the bad guys (or girls) with the advantage sometimes, so the good guys (or girls) can get revenge. Those fans that are mad about the reversal are still going to tune in the next week. That's the point of an episodic television show.
The story would work well because the babyface Raw GM Mick Foley wasn't on Raw last week, so there would be nobody to stop Stephanie from making the ruling. That could be the start of major problems between Stephanie and Mick as well.
They could still reverse the decision on next Monday's Raw, but I doubt that WWE is going to go that route. If it happens it won't have the same impact as if they did it right away. You can see that the women are trying to push the story on Twitter with Charlotte complaining of cheating and Bayley saying she had no idea Banks was going to do that.
.@MsCharlotteWWE Sasha has always had my back but I was focused on beating you myself…..Again. I had no idea she would do that.

— Bayley (@itsBayleyWWE) February 15, 2017
I think both performers are awesome. In October 2015, I flew to Orlando, Florida to watch Bayley defend the NXT Women's Title vs. Sasha Banks in a 30 minute Ironman Match. We stood on our feet for about 20 minutes of that match. After it was over, people were lined up outside as the wrestlers made their way to their cars. Who spent the most time with the fans there? Bayley. I even talked to her parents, who were waiting for her so they could leave. They were so proud of her that day as they should be. She hugged everybody, she took pics, she engaged in conversations with people and I can assure you that anybody that has met her would be as impressed as I was.
Charlotte Flair is an outstanding performer that is arguably the best heel in the entire company. She epitomizes what a true heel should be just like her father Ric Flair, who is the greatest heel there's ever been in wrestling. She has improved from what she was two or three years ago and I think she's going to be even better a year from now.
Their title match had a lot of cool moments. I loved the way Charlotte dominated the majority of it. That moonsault that Charlotte did off the barricade that led to her knee hitting Bayley in the head looked nasty, but they kept going. Bayley showed that fighting spirit in coming back. Bayley came so close to winning multiple times with the Macho Man elbow off the top and the Frankeinsteiner was executed perfectly as well. The crowd was really behind her. I thought Charlotte was going to find a way to escape with a title, but Bayley ended up getting her big moment in front of a crowd that loved her.
This article is about the booking decision, not the performers. Simply put, I think WWE made a mistake in putting the title on Bayley on February 13 on Raw instead of on April 2 at WrestleMania. Why? Three reasons.
1. Evil Boss Stephanie McMahon Should Make Life Difficult On Bayley
During the January 2, 2017 edition of Raw, there was a backstage segment in the "office" where Bayley talked to Stephanie McMahon. It began with Stephanie telling Bayley that she never wanted Bayley on Raw and she doesn't see Bayley as the face of the women's division like Foley does. Bayley responded by saying nothing will stop her from achieving her dream. In my analysis of that segment in my Raw Deal review, I wrote this:
"Good to see Stephanie remembered she's a bitchy heel that can help talent get over. Telling Bayley that she doesn't want her there is a good way to get fans to rally behind Bayley as she tries to prove Stephanie wrong. Easy story to tell. It needs to be something where Stephanie continues to makes life tough on her and Bayley keeps finding ways to prove her wrong."
That was me being optimistic and thinking that maybe WWE finally realized that the Stephanie character can help get somebody over. Instead, they barely had any Stephanie/Bayley interactions after this. Why? I don't know. It's what makes the Stephanie character so frustrating because they don't use her to get characters over the right way – the way her dad used to.
The easy way to tell this story is to copy The Authority angle with Daniel Bryan from three years ago. The boss Stephanie doesn't want Bayley to be the Women's Champion because Bayley is just average rather than a star athlete like Charlotte. Remember The Authority calling Bryan a "B+ player" repeatedly? It's essentially the same thing. Like I said before, it's the easiest story to tell.
Prior to the Charlotte/Bayley Women's Title match on Raw, there should have been a segment with Stephanie telling Charlotte you can't let Bayley win. Charlotte should have replied back with a confident smile and said don't worry because she will win. Then Stephanie should stare her in the eye again, saying "you better not let me down." Make it seem like Stephanie would be genuinely upset if that average girl Bayley was holding that title.
If the fans know that the evil boss Stephanie is against the popular face Bayley then it's only going to help the storyline and make people more excited when Bayley wins.
2. WrestleMania Moments Are More Memorable Than Raw Moments
This isn't a point that I should have to make, but I'll do it anyway. When significant things happen at a WrestleMania they are remembered much more fondly than when they happen on Raw, Smackdown or any other pay-per-view event. Why? Because WrestleMania happens once a year, it's the biggest show of the year and everybody that follows WWE know that.
Most hardcore WWE fans can list off random matches at every WrestleMania while forgetting what was the main event of Raw three weeks ago. That's just how we are. With that in mind, the creative team should spend their time focusing on how they can create those special moments at WrestleMania.
You know why we're like that? Because WWE wants us to be like that. They are the ones that shove the phrase "WrestleMania Moments" down our throats every year, especially in March and early April. Whether you want to admit it or not, they trained us to be like that.
What show did Shawn Michaels win his first WWE (World) Title at? WrestleMania 12.
Randy Savage? WrestleMania 4.
Ultimate Warrior? WrestleMania 6.
Steve Austin? WrestleMania 14.
John Cena? WrestleMania 21.
Batista? WrestleMania 21.
Seth Rollins? WrestleMania 31. That's a recent one that everybody marked out for even though he was a heel. Why? Because it was WrestleMania.
People can fire back at me saying a lot of male wrestlers didn't win their first major title at a WrestleMania. That's not the point.
I know Bayley's star power isn't as big as a male wrestler winning the WWE Title in the main event of a WrestleMania, but I think we can all agree that if they saved the title change until WrestleMania it would have meant more.
3. Bayley Winning The Title And Ending Charlotte's PPV Win Streak At WrestleMania Would Have Been Huge
Every time a pay-per-view comes up, the announcers like to drive home the same point. They mention that Charlotte is 16-0 in PPV title matches. She's also lost the Raw Women's Title four times in title matches on Raw, but that's not really mentioned. In other words, WWE's creative team has done a great job of building up her PPV matches by mentioning that she is tough to beat in that setting.
As soon as Bayley joined the main roster on the Raw after SummerSlam last August, the most obvious storyline for her was to end Charlotte's PPV title match winning streak by winning the title at WrestleMania. That should have been the plan from that moment. Maybe it was the plan. Did they get sidetracked? Perhaps. I don't think we'll ever really know.
For whatever reason, WWE seems to enjoy Raw Women's Title changes on television. Bayley's win was the fourth time it happened since the first Banks win over Charlotte last July. By comparison, the Smackdown Women's Title hasn't changed hands on television although there have been three champions since the title was introduced in September 2016.
To the credit of the Raw women, the matches for their title have been better than what the Smackdown women have done. The difference between the two shows is that Smackdown has about seven women that regularly get TV time while Raw is really about three women (Charlotte, Bayley, Banks) with Nia Jax used sometimes and the others are generally forgotten despite Brooke's cameo on Raw.
While I think the Raw Women's Title is coveted because of the match quality that the women routinely, it's hard for me to say everything is great when there's only four women featured on television in the "division."
What's Next?
In September 2014 I had my very first title match for #NXT vs Charlotte Flair in that building behind me. I didn't win. But now….. pic.twitter.com/bl6yyXDrGh

— Bayley (@itsBayleyWWE) February 15, 2017
The rumored plan for the Raw Women's Title at WrestleMania was Charlotte vs. Bayley vs. Banks vs. Nia Jax. There might be a Banks heel turn in there too, if you believe the rumors that exist.
If it was me calling the shots, I would have kept the title on Charlotte until WrestleMania and I'd tell Banks and Jax sorry, but you're out of the match. It's WrestleMania. You can't have everybody in a title match and you shouldn't do it when you have a perfect story that could have happened.
Charlotte should have walked into WrestleMania as the Raw Women's Champion. She should have cheated to retain against Bayley on Monday's Raw. She should find a way to retain against whoever it was going to be at Fastlane. Then, WrestleMania comes with Bayley against Charlotte one more time for the Raw Women's Title.
The stage would have been set perfectly. Bayley, in her WrestleMania debut, would go up against her toughest rival that also happened to be undefeated in PPV title defenses. It would make Bayley come across like the biggest underdog in the world that had to get to that next level to try to beat the champion.
Instead, Bayley won it on Raw. Now what? Another title change, likely at Fastlane on March 5 so Charlotte's streak can continue and Bayley's title reign will be less than one month. Yawn. We've seen them do this before with Banks.
This storyline could have been amazing while producing a memorable moment at the biggest show for the year for one of the most likable female stars WWE has ever had. If Bayley wins the titel again at a WrestleMania that's cool, but it won't be a first time. That "first time" moment is gone. For what, a moment on Raw? What a shame.
Here's that photo with Bayley. Thanks for the hug, champ.
John Canton – mrjohncanton@gmail.com
Twitter @johnreport