The Future of MJF – AEW Long Term or Jumping to WWE?
Maxwell Jacob Friedman, better known as MJF, has been a hot topic of conversation due to his excellent work as one of the top heels in AEW and his willingness to talk about possibly leaving AEW for WWE when he's a free agent in 2024.
Recently, a report came out from F4W Online but credited to Fightful that MJF was frustrated and leaning toward leaving AEW when his contract expired. Obviously, this would be a huge blow to AEW.
MJF is essentially one of the top heels in the entire business and one of the top acts on Dynamite every week. He is definitely a guy that WWE covets and would love to steal him away from Tony Khan much in the way they took Cody Rhodes. MJF is by all means not replaceable. AEW has a stacked roster and could stick somebody in his position if they choose. The problem is you don't want it to be a domino effect. We saw how that affected WWE. Once one person left for AEW, it led to sort of a mass exodus of WWE talent to AEW. Talented wrestlers like Adam Cole, Bryan Danielson, Ruby Soho, Keith Lee, Swerve Strickland, etc. I am pretty sure Tony Khan does not want the same thing to happen in AEW.
The good news is they're a new company, so a lot of their big-name contracts haven't come up yet. Cody Rhodes was the first real big contract that expired for AEW. In 2024, they have guys like MJF, The Young Bucks, Kenny Omega, and Chris Jericho. The year 2024 is a big year free agent-wise for the company. It is also when their new television deal comes up so there's a chance they may have more money to spend due to a television rights fee increase.
The issue seems to be that MJF wants to get paid now while still hitting free agency in 2024. We've seen other sports where players outperform their contracts, so they get a huge raise several years before free agency and MJF has certainly done that. The difference is, those players usually get new deals or get their current deals re-worked. MJF apparently isn't willing to do that which should tell you a lot about his commitment to AEW. Others like Scorpio Sky and Miro have signed new deals before their contracts were even due. In MJF's case, it seems like he wants to become a free agent in 2024 to see what his options are.
MJF HAS NOT BEEN BOOKED CONSISTENTLY
I know MJF is one of the hottest acts on the planet. He's easily one of the top heels in the company. He's in a hot feud with Wardlow right now that is generating huge reactions from the crowd. What's wrong with that? What's wrong with it is that all of his feuds are hot and get great reactions. He just loses 90% of them. In wrestling, feuds are won and lost on pay per view. Yeah, they may have matches on weekly television but the blow-off is usually on pay per view. MJF is 4-5 on PPV since joining AEW. In 2021, he was 1-3, and that one came on the last pay per view of the year against Darby Allin. The same Darby Allin that has been TNT Champion in the past while MJF has yet to win a title in AEW.
MJF had big feuds against Cody Rhodes, CM Punk, Chris Jericho, Jon Moxley, and now Wardlow. MJF beat Cody Rhodes at Revolution 2020. It was their one and only match in AEW. I thought they were heading somewhere with MJF. He lost an AEW World Title match that year to Jon Moxley. Sure, maybe he wasn't ready. Then he beat Chris Jericho at Full Gear 2020 and we are off to the races. That should have been their one and only match because of what was to come. In 2021, he lost at Revolution to the Young Bucks (as a tag team with Jericho), he lost at Double or Nothing to the Inner Circle, and he lost the blow-off match to Chris Jericho at All Out. Sure, he did beat Chris on Dynamite and The Pinnacle did win the first-ever Blood and Guts match. How many people actually talk about those though? Especially his singles victory on Dynamite. I bet even the most die-hard AEW fan couldn't name the episode date without looking it up.
Most people remember the PPVs because those are what these stories build to. On Pay Per View, MJF lost two out of three matches to Chris Jericho. MJF did get a win over Darby which I was happy about. Then he gets into a heated feud with CM Punk. I'll admit, it is probably the best feud Punk has had in AEW. MJF then beat CM Punk IN Chicago for his only loss in AEW. Except it was on Dynamite and it was a cheap win for MJF. They had a Dog collar match a few weeks later at Revolution 2022 and, you guessed it, MJF loses the blow off. I know people say CM Punk had to win to earn his title shot. Let's not forget that Adam Cole lost to Orange Cassidy and immediately got a title shot. Dante Martin got a title shot and none of the wins he got to qualify were on Dynamite. It would've been easy to give CM Punk a few wins to get him back to number one.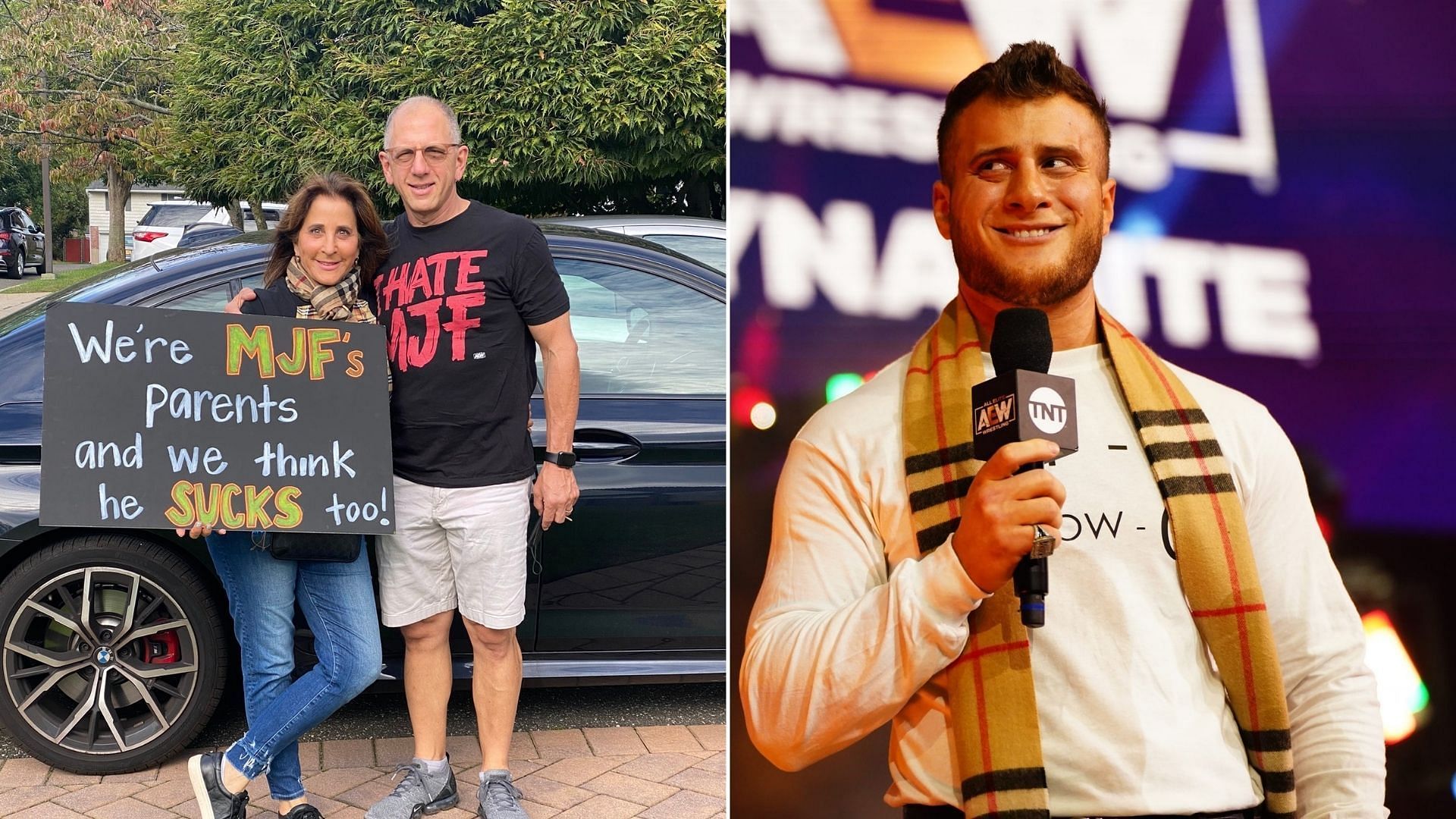 The question becomes, why not give MJF the title shot then? Well, MJF and Wardlow had a story. Wardlow was going to win the ladder match and hand over his title shot to MJF. Yes, MJF told him a few weeks before that he was going to let him have it after all. Heels lie. That's your story to keep Wardlow away from the title. Then, you could've had Wardlow refuse and do the turn as opposed to doing it at Revolution to help Punk. They literally invented the TBS Title so Jade Cargill would have an excuse not to challenge Britt Baker for the Women's Title. It can, and has been done. MJF needs to be booked better and more consistently. He's the most "over" act in your company. Treat him like it. I know it is a heel's job to lose to the babyface, but the heel first has to be credible so a win by the babyface means more. Wardlow is on a tear. MJF has lost three of his last four feuds. How are we supposed to believe MJF even stands a chance against Wardlow? It's going to be another loss for MJF.
MJF IS A CODY RHODES GUY
Lost in all of this is the fact that MJF is, at the heart of it all, a Cody Rhodes guy. Cody is the one who convinced Tony Khan to take a chance on an inexperienced MJF early on in AEW's hiring process. Cody took MJF under his wing and gave him his first, and one of his only truly big wins in AEW. Now, Cody is back in WWE. MJF is probably looking at that and seeing Cody basically keep his entire AEW presentation and thinking going to WWE might not be as bad as people say it is.
Cody has been booked nearly flawlessly so far since being back in WWE. He's kept his presentation, he's yet to lose, and he's booked as the top star on the Raw brand. Cody's presentation at WrestleMania was amazing and so was the match he had with Seth Rollins. There's no reason why MJF can't receive similar booking. Especially if he has Cody there to vouch for him. It's no guarantee, but MJF having one of his best friends in WWE couldn't hurt.
MJF IS ABOUT THE MONEY
I know people ask: "Why would anyone go to WWE?" and yet we've seen guys like Kevin Owens, AJ Styles, and Sami Zayn re-sign recently. Cody Rhodes left AEW to return to WWE. Hot independent stars like Rox-C (now known as Roxanne Perez) have chosen the WWE path. It's because, not only is it their dream to be in WWE, but the money is better than any other promotion in the world.
Some fans look down on those who go to WWE for the money. Newsflash, every wrestler who gets in the business, gets in to make as much money as they can for as long as they can. Sure, they may love what they do but at the end of the day, they have bills that need to be paid and families to support. MJF has long said that he is going to go to whoever pays him the most money. Unless AEW gets a huge rights increase in 2024, the company that will pay him the most is WWE. Whether MJF sticks to that remains to be seen but he's been steadfast that he wants to get paid so unless Tony Khan is willing to pay him CM Punk level money, MJF may not be long for AEW.
During a recent appearance on the Rasslin' podcast, which we covered here, MJF said this about management:
"I think there's a lot of stuff going on in this company that is inaccurate. I think all these ex-f*cking WWE guys that are making an absurd amount of money when quite frankly they can't sniff my f*cking jock when it comes to the ratings I pull in whenever I am on screen, I think they can all go to hell. I think that somebody in the upper management has a problem with me, and it's very obvious if you see what I am dealing with week to week."
It could be MJF being in character and not really meaning what he's saying, but it also could be his true feelings. With MJF, you never really know.
THE VERDICT
Where do I see him going in 2024 when he's a free agent? Who knows. MJF is as unpredictable out of the ring as he is in the ring. You can tell the freedom certain talents in WWE have with their promos. I imagine MJF will have similar freedoms. For those saying MJF wouldn't be able to be MJF in WWE, I say that Cody in WWE is basically Cody from AEW. If we are talking about strictly money, I don't see AEW having as much money to give MJF as WWE even with a rights increase. Whether WWE is willing to spend that money or whether MJF sticks to his guns about going to who pays him more remains to be seen.
I think he'll go to WWE because he probably wants to work a WrestleMania, he'll probably get more money there and have a lot of fresh opponents for years to come.
Thanks for reading. Check out my TJRWrestling writing archive here. I'm on Twitter @GiftedMoney talking about wrestling among other things, so feel free to message me on there with any thoughts or comments.