Impact Wrestling Hard to Kill 2023 Preview
It's time for the first Impact Wrestling Pay-Per-View of 2023 called Hard To Kill and based on the lineup, it should be an excellent show.
The crowd capacity for this show is a bit larger than Impact has been used to over the last few months (still only 1,000), but the fans in Atlanta will be loud. They have built this show around two championship feuds that have been ongoing over the last couple of months, so there are some really intriguing storylines going into the show. The undercard is also full of quality matches and I have some interest in every match on the card, which isn't something you can say for every PPV show. I feel that this is the strongest card Impact has put together since I have been reviewing every show of theirs in June 2022.
I am writing this preview before Impact's Thursday show, so hopefully nothing changes before Friday's PPV. Let's get to the card, including my predictions for each match.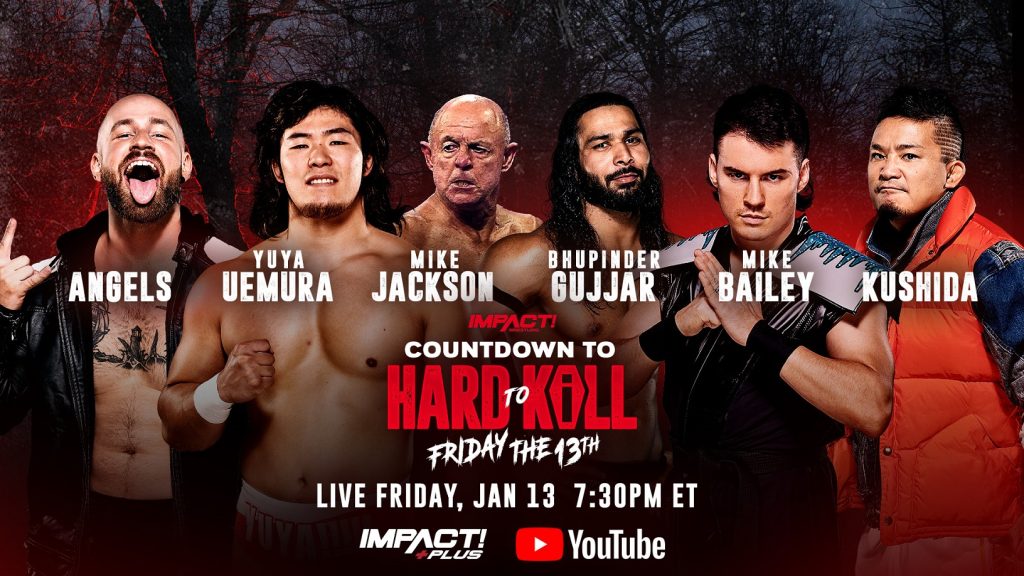 Pre-show match:Mike Bailey vs Kushida vs Angels vs Yuya Uemura vs Bhupinder Gujjar vs Mike Jackson
Impact love getting as many X-Division stars on the show, especially to kick off a PPV, so it's no surprise that this 6-way match was added. It's nice to see Kushida back in Impact, after a couple of months away. I believe Mike Jackson is 73 years old, so that adds some interest for me having never encountered one of his matches before, but it's pretty predictable that Mike Bailey gets the win here as he's the only one currently involved in a main storyline. Bailey takes on Kenny King in a Pit Fight on the Impact episode after Hard to Kill.
Winner: Mike Bailey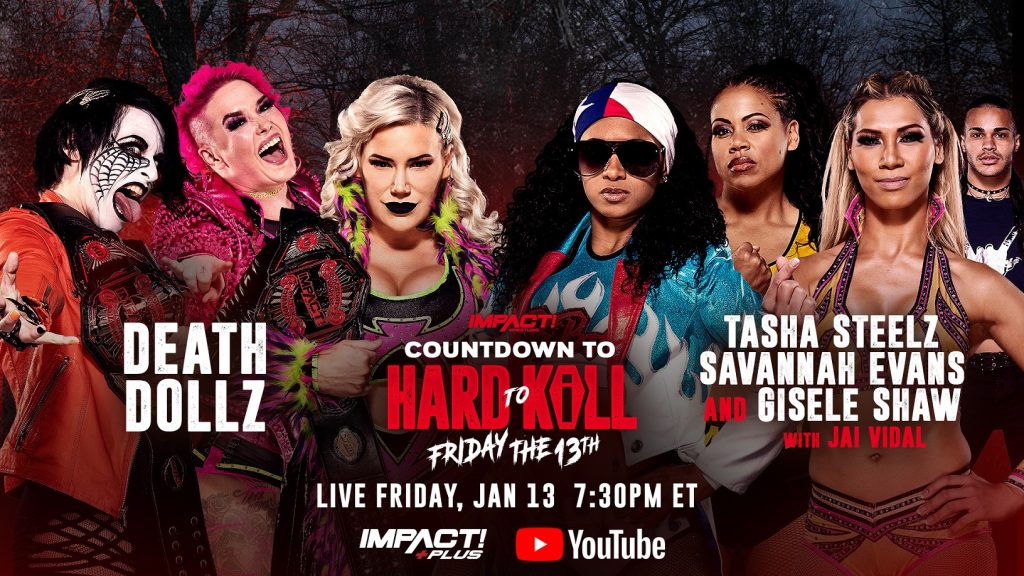 Pre-show match:Tasha Steelz, Gisele Shaw & Savannah Evans vs Death Dollz (Rosemary, Taya Valkyrie & Jessicka)
Another week, another team to take on the Death Dollz with Gisele Shaw trying to weasel her way in to a Championship feud. It has been a little entertaining watching Shaw beg for opportunities with different partners. Death Dollz don't need the win here, but they're booked strongly and will probably get the win as it's just a pre-show match. It would make more sense for Steelz' team to get the win and be the next challengers for the Knockouts' Tag Team Championships.
Winners: Death Dollz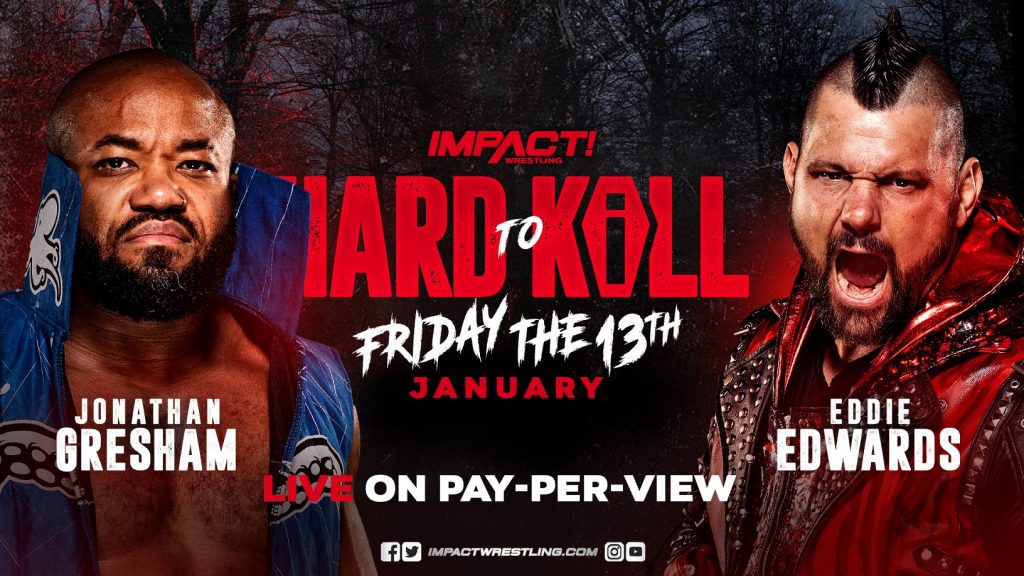 Jonathan Gresham vs Eddie Edwards
I was really excited when Gresham came to the aid of Delirious on the 15/12/22 episode of Impact. However, since then there has been no interaction between Gresham and Edwards. Hopefully this occurs on Impact this week. With or without a strong storyline, this should be an excellent match. I have always been really impressed with Gresham in recent times, both in ROH and in his sporadic Impact appearances, and Edwards is still a strong talent however I feel his promos now outshine his in-ring ability. I think Edwards will get the win as he's the Impact mainstay, but I'd be happy for Gresham to be a permanent member of their roster. It will be interesting to see if PCO makes an appearance to cost Edwards the match.
Winner: Eddie Edwards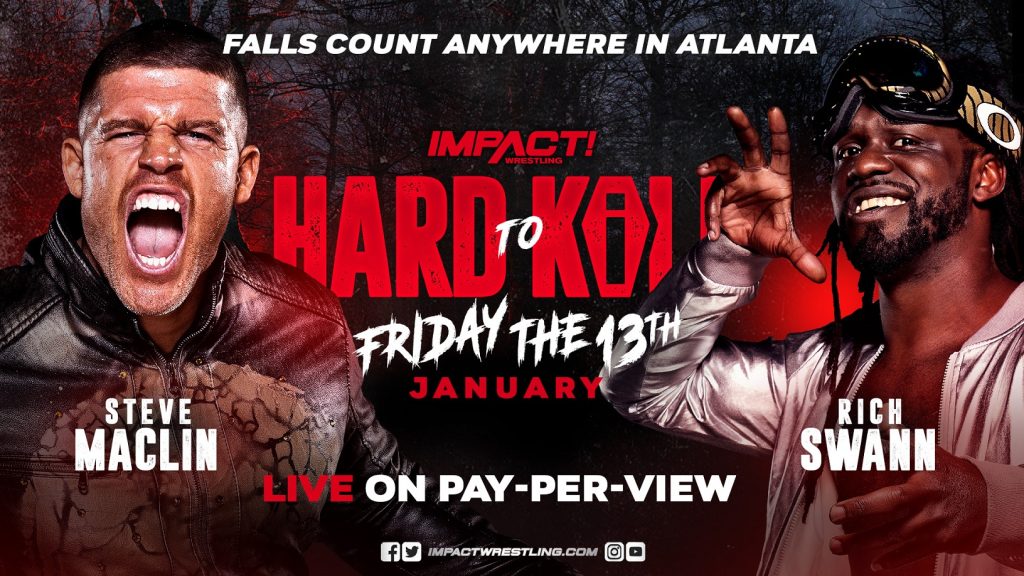 Falls Count Anywhere: Steve Maclin vs Rich Swann
This is another match on the undercard that really has the potential to be a 4-star match. The intensity in this feud has been really high and it's been pleasing to see Swann in a more serious mode as I think he's much more suited to that than the dancing routine. Maclin should be pushed to World Championship level so he gets the win here, but not without a heck of a fight from Swann.
Winner: Steve Maclin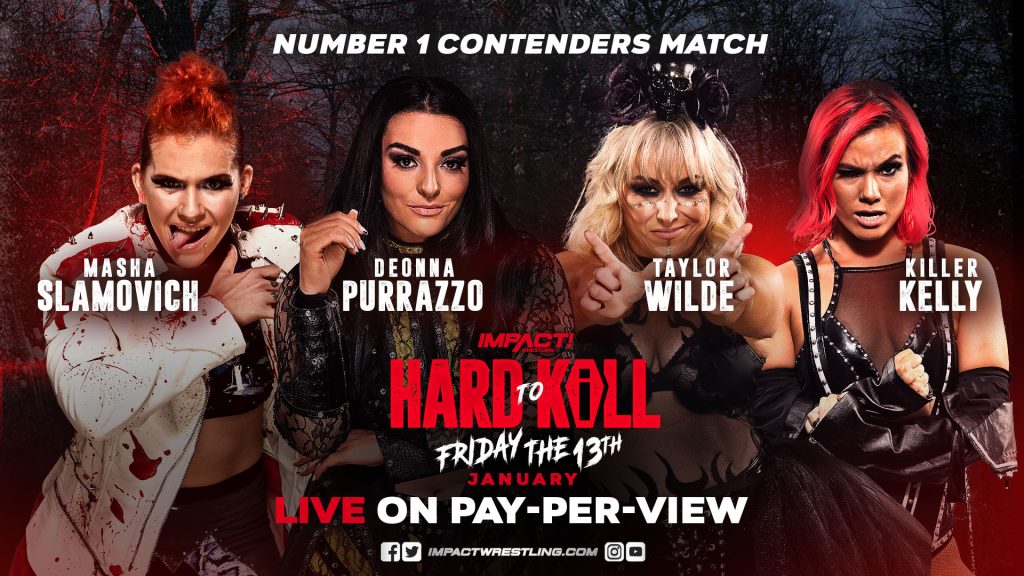 Knockouts' Championship #1 Contendership: Killer Kelly vs Masha Slamovich vs Deonna Purrazzo vs Taylor Wilde
The Knockouts Division is very strong at present, even with the departures of Mia Yim and Chelsea Green, so it's great to see a #1 Contender match on a PPV. That is a rare thing in wrestling nowadays, but I say more of it please. There are arguments for every woman to win this one. Wilde is pushing her new gimmick and got the win over Slamovich on Impact last week. Purrazzo has all the credentials and is always comfortable in a Championship feud. Slamovich has proved how good she is with her matches against Jordynne Grace over the last 3 months. Killer Kelly is undefeated and has only had one serious match which was against Tasha Steelz. The winner of this may depend on who wins the Championship match between Mickie James and Jordynne Grace, but I'm going to stick with Kelly who needs some momentum in 2023.
Winner: Killer Kelly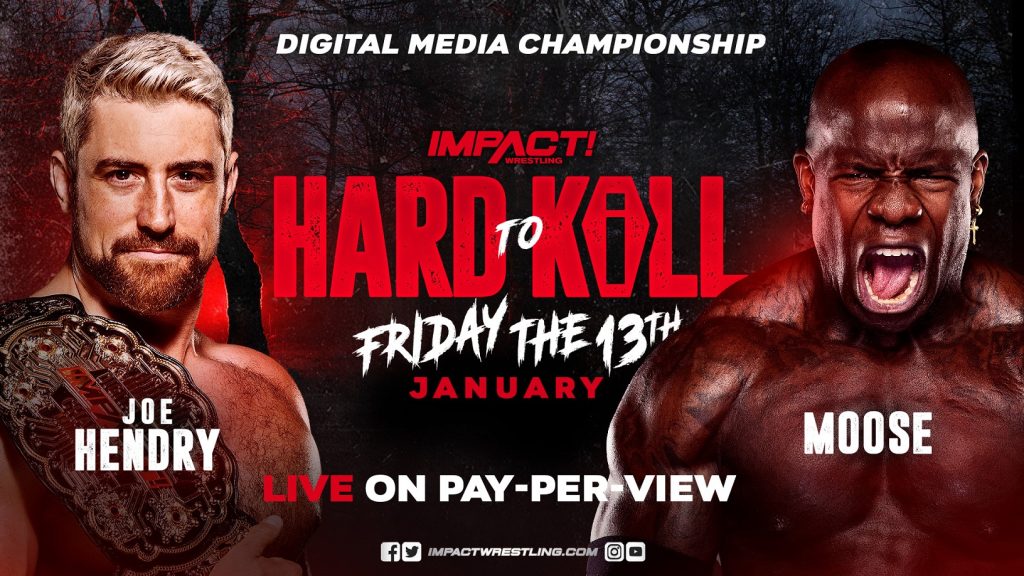 Impact Digital Media Championship: Joe Hendry (c) vs Moose
The build-up for this match has been entertaining. Hendry is very popular with the fans and has been focused on unsettling and embarrassing Moose, whilst Moose wants to take Hendry down a peg because he thinks he isn't taking his title reign seriously enough. What it should translate to is a high-quality match between two great athletes. It's too early in Hendry's run for a loss, but I think they might protect Moose who didn't win a lot in 2022, despite being World Champion for the first few months.
Winner by disqualification AND STILL Impact Digital Media Champion: Joe Hendry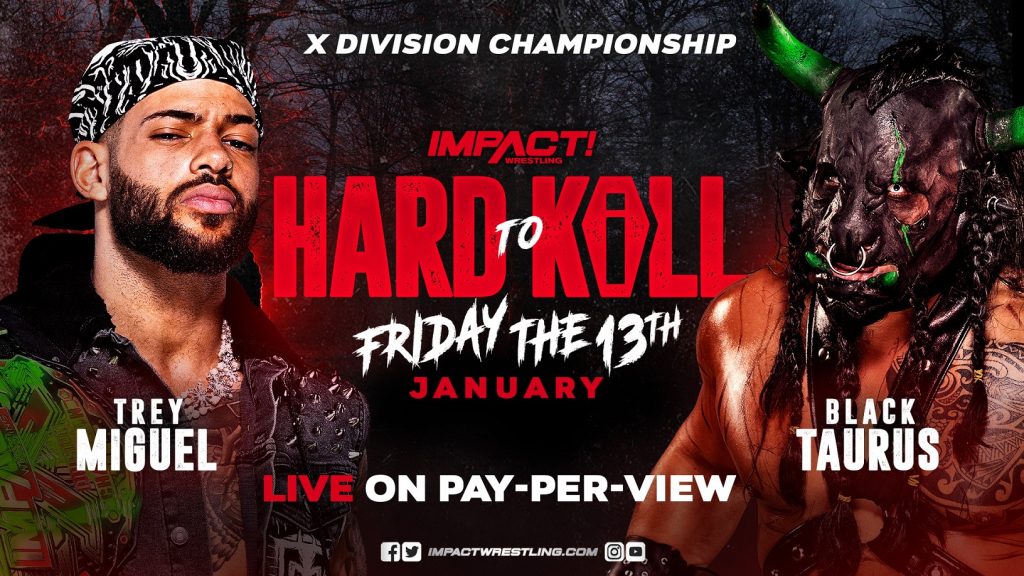 X-Division Championship: Trey Miguel (c) vs Black Taurus
Despite Miguel's heel turn at Over Drive in November where he beat Taurus for the vacant title, Taurus has been featured more prominently on Impact as of late. I have been critical of how little they have showcased Miguel's new attitude as he has been mostly seen doing backstage pre-taped promos and hardly featured in the ring. I think it's still early on in his heel run to take the title off Miguel, but I wouldn't be surprised if they strike while the iron is hot with Taurus who is always popular with the fans.
Winner AND STILL X-Division Champion: Trey Miguel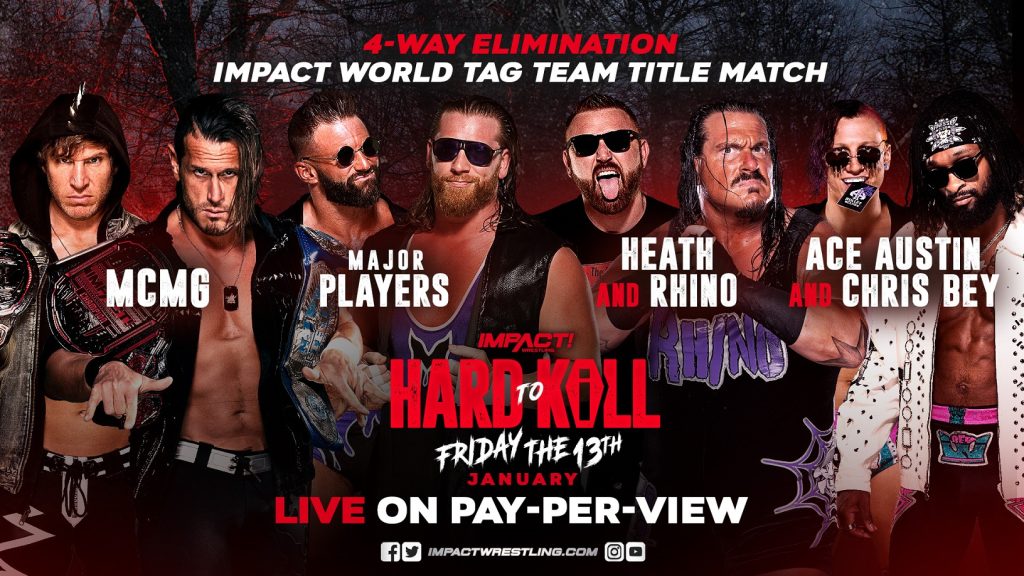 Impact World Tag Team Championships: Fatal 4 Way Elimination Match: The Motor City Machine Guns (c) vs the Major Players vs Bullet Club vs Heath & Rhino
This is a pretty tricky match to predict. I was disappointed that Heath and Rhino dropped the titles, as much as I really enjoy watching Shelley and Sabin wrestle. It just seemed like a safe move, whereas Heath was proving to be really over with the fans especially when he was fighting Honor No More. Bullet Club had a great run in Japan, so the momentum is with them. However, due to their participation in NJPW Super Jr Tag League, they haven't been featured on Impact lately. The Major Players have been hanging around the title scene since Cardona's return from injury and I think they will be the final team to be eliminated. It seemed like a random time to put the titles on the Guns, so I feel there's no reason to take them away for now.
Winners AND STILL Impact World Tag Team Champions: The Motor City Machine Guns
Knockouts' World Championship: Jordynne Grace (c) vs Mickie James (if Mickie loses she must retire)
If the last match was tricky for me to predict, this one is nearly impossible. The 'Last Rodeo' run of Mickie has been a fascinating story. Whilst most of the matches she has been involved in have had super-predictable outcomes, I have to give props to not only the wrestlers that have been involved in those matches, but the commentators and production staff who have made every match seem like a big deal and hyped every match up to feel important. Every time Mickie steps in the ring now, it feels special and she has great support at every Impact show she wrestles at. On the other hand, Grace is a dominant force who is wrestling at an elite level presently. In my opinion, she was involved in the best women's match of the year when she faced Masha Slamovich at Bound for Glory. She is consistently excellent in the ring and more than solid in her promo work. The build-up for this one has focused on respect, with Mickie feeling that perhaps Grace hasn't taken her as serious a threat as she should. Even though this is a big title match, I personally feel that as it's not one of Impact's bigger PPVs, that this isn't the end for Mickie James just yet. She has one more title run in her and it starts Friday night with victory over Grace.
Winner AND NEW Knockouts' World Champion: Mickie James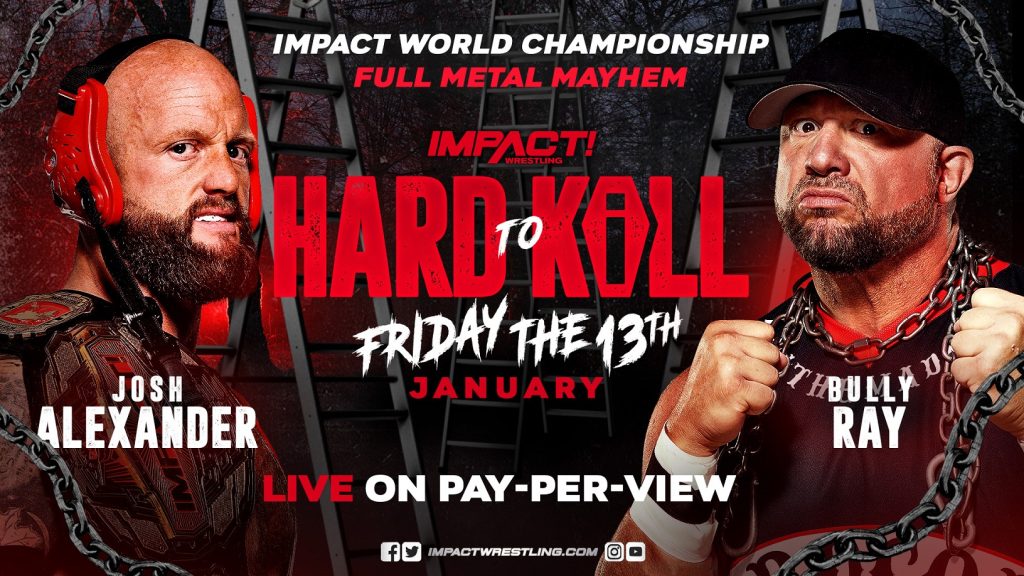 Impact World Championship: Full Metal Mayhem: Josh Alexander (c) vs Bully Ray
What a fantastic, bitter build-up this match has had. There is so much emotion going into this one. What started off as Bully respectfully informing Alexander that he would be 'calling his shot' at Hard to Kill, ended in a violent heel turn by Bully at Over Drive. Bully destroyed Alexander and put his hands on his wife. Since then, Bully has been on a wave of terror- most recently putting Scott D'Amore through a table and his friend Tommy Dreamer in the hospital. Bully has been excellent since his return to Impact. I did not agree with him winning the Call Your Shot Gauntlet at the time, but he has proven to be a worthy #1 contender even at 51 years of age. He is a despicable heel that will go to any lengths to become World Champion. Alexander had a phenomenal 2022 since winning the World Championship at the end of April. He is one of the best wrestlers in the World and I rated his Championship matches at 4 stars or more in 4 out of 5 title defences in 2022 (I only started in June). He also had a stellar 60-minute match with Mike Bailey on the last Impact episode of 2022. However, Full Metal Mayhem is a different beast. The match type fits this feud perfectly. Whilst it might not be a 4-star mat wrestling classic, I still expect these two to deliver a high-quality match because of the tension between them and the lengths that Alexander will go to defend the title. He has been on the wrong end of so many beatdowns during this feud, that it's time for him to get the upper hand and get his revenge on Bully.
WINNER AND STILL Impact World Champion: Josh Alexander

Can Bully walk out World Champion or is it time for Alexander to get his just-desserts? Will Mickie James' career come to an end or does she have one last title run left in her?
Any feedback or comments are welcome. My email address is kristian.l.thompson@gmail.com in case anybody wants to get in touch with me and my Twitter handle is @thomok6 as well. Thanks for reading!