Admiring The Greatness Of FTR
The duo of FTR – Dax Harwood and Cash Wheeler – are without a doubt the best tag team in the world as I stand here today. The year they've had in 2022 is unparalleled and it isn't even over yet.
I know some will point to The Usos and I get that. Of course, The Young Bucks will always have their fans. However, neither team is on the kind of roll that FTR is right now. Even Dax Harwood as a singles wrestler has had a hell of a year to the point where a lot of people are putting him in the Wrestler of the Year conversation. FTR are former NXT Tag Team Champions, former Raw Tag Team Champions, former Smackdown Tag Team Champions, former AEW World Tag Team Champions, current AAA World Tag Team Champions, current IWGP World Tag Team Champions and current ROH World Tag Team Champions. There's very little, if anything, they haven't accomplished. The reason they say "seven star FTR" is because of the seven different sets of major titles they have won.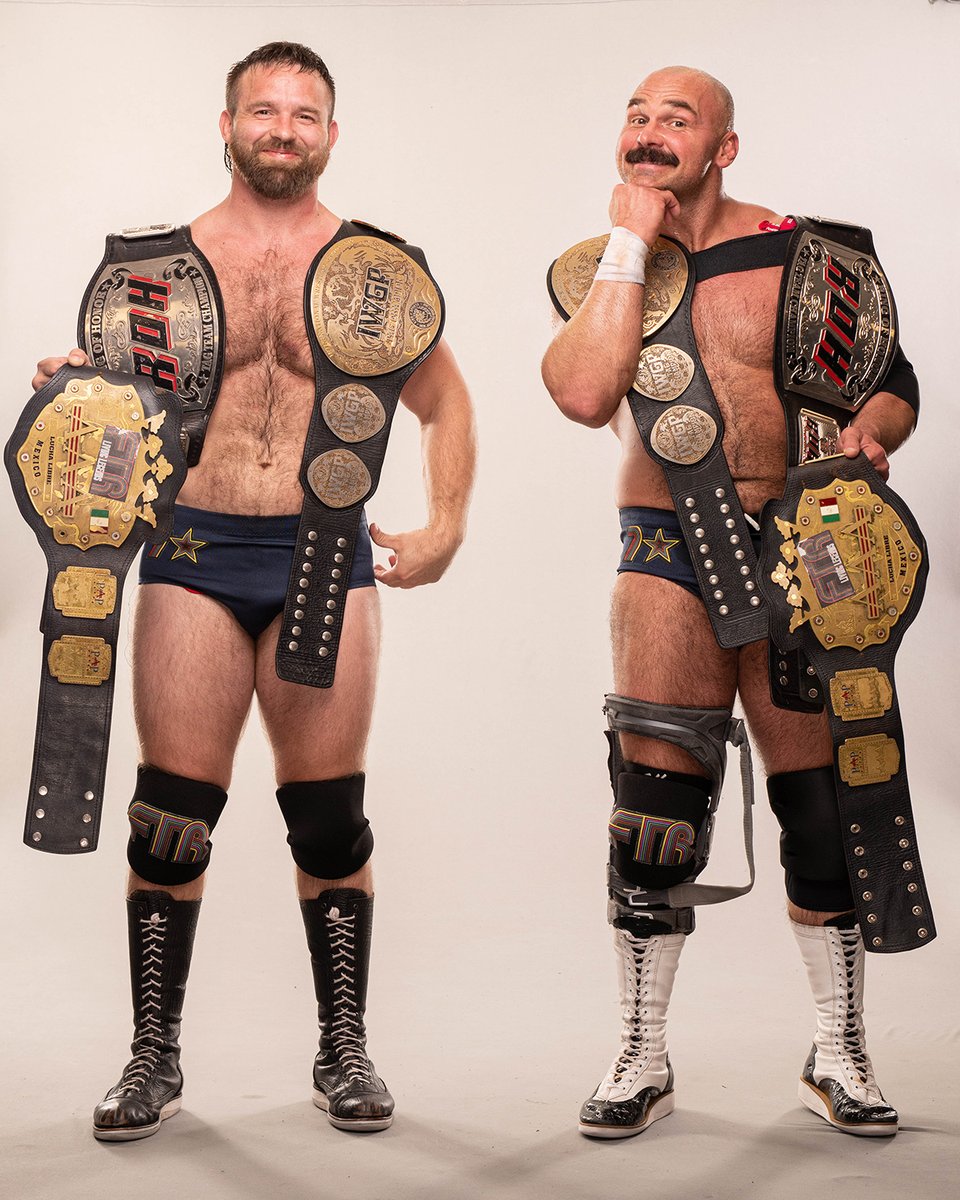 FTR is one of the best tag teams of all time in my opinion. I wasn't really impressed with the former Revival when they first got to NXT. The more time they got and the more I saw them in the ring, the more I became huge fans of their old school style of wrestling. I grew up a WCW fan. Turner had just bought Crockett and, living in Georgia, I was obviously more geared towards WCW. It was all about guys like Sting, The Four Horsemen, and Dusty Rhodes. You can have your Hulk Hogans and Ultimate Warriors. I wanted to see Sting kick Flair's ass. When I saw The Revival in NXT, the first thing I immediately thought of was the old Brain Busters tag team in the WWF of Arn Anderson and Tully Blanchard. The old school tag team wrestling, the holding the tag rope, not being in the ring more than five seconds. All of that brought me back to when I was six years old again.
I'm sure others will have different opinions. Even Dax himself has said he's partial to their match with the Briscoes. I'll agree. Both matches were awesome. I watched both and couldn't believe some of the stuff I saw. When I think of MY favorite match of FTR/The Revival, it's The Revival vs DIY at Takeover: Toronto in a 2 out of 3 falls match. The crowd was into it the whole match. The psychology, the near falls, the build up to DIY capturing those Titles. The double submission on the last fall was perfect. Dax and Cash were right there, face to face. They grabbed each other's hand briefly to keep from tapping out but in the end, Ciampa and Gargano were just too much. It was a masterful piece of storytelling and one of my favorite matches ever, not just NXT. When I rank my favorite matches of all time, that match is usually in my top 5. It's that good. Again, both matches this year against The Briscoes were awesome. I just preferred the DIY match. (TJR's own John Canton was at that match and raves about it all the time. Check out the review of the match that he rated five stars right here.)
What separates FTR from everybody else is their commitment to old-school tag team wrestling. You see a lot of teams now try to adopt the new, Young Bucks style of tag wrestling. FTR has always been committed to the old days. From the tag rope to only making one save per match. FTR are very much aware of the little nuances of tag team wrestling that most people just gloss over and that's part of what makes them one of the best ever. They're huge fans of Bret Hart and Arn Anderson, which you can clearly see in their work. The Revival were great heels. FTR were great heels. FTR as babyfaces is probably the best decision AEW has made because the crowd gravitates to them. They relate to FTR in ways they don't relate to anybody else. They're down to Earth, working men, or "common men" if you will as Dusty would say. Fans can relate to that because they feel FTR are just like them. Their fired up babyface promos are another level in 2022.
FTR has been a part of some pretty good runs. Their brief alliance with Randy Orton as FTRKO was great because all three have similar old school styles and approaches to professional wrestling. Their NXT run was great. The way they showed up in AEW was perfect and I loved what they did with The Pinnacle. The current run they're on surpasses all of that because of how organically everything fell into place. There wasn't that one moment where we were like "Oh my god, that's a babyface turn" like you see so much in wrestling. The fans just organically started getting on their side and they reacted accordingly. They also have become allies of the AEW World Champion CM Punk, which is a fun group to watch. That is how you adapt in professional wrestling.
Lately, there's been a source of frustration on my end because FTR has been ranked number one for seemingly five months straight now and have yet to get one tag team title shot. In the time since the first week they were number one, AEW has had three World Tag Title changes (Jurassic Express/Young Bucks/Swerve in Our Glory) and five teams total have competed in World Tag Title matches (reDragon, Young Bucks, Team Taz twice, Swerve in Our Glory twice, Jurassic Express three times). There have been a total of four AEW World Tag Title matches that did not involve FTR even though they're ranked number one. I'm sorry but if you want people to believe your ranking system is legit, passing FTR over for five months as the number one ranked team isn't the way to do it.
The only way to salvage that mistake is to put them in a title match at All Out. It should be FTR vs The Young Bucks III for all the titles. However, that obviously isn't the direction now for whatever reason. You need to put FTR in that title match at All Out or the rankings are not to be taken seriously. FTR hasn't lost on AEW television since March 2nd, 2022 and that was a Casino Battle royal. They haven't lost a regular tag match since February 9th, 2022 against CM Punk and Jon Moxley. Yeah, they have three sets of tag titles already, but how can you boast the legitimacy of your ranking system when the number one ranked team for five months straight hasn't even been granted a title shot yet? It's baffling.
What's next for FTR? Who knows. I assume another AEW World Tag Title run is in the cards. I don't know their contract status but selfishly, a big part of me wants this version of FTR/The Revival against the current version of The Usos. They had that feud a few years ago but it left a lot to be desired due to the feud itself. Shaving each other's backs and ball cream or whatever it was. It was just a mess. Can you imagine an Usos/FTR feud under this new regime led by Triple H? We know he is a big proponent of tag team wrestling and The Revival were booked pretty solid under his watch in NXT. I don't know how likely it is, but a big part of me just wants to see how FTR would get booked under Triple H on the main roster. I think they would do pretty great. They could have matches with The Usos, Street Profits, New Day, Viking Raiders, Alpha Academy, Cedric Alexander/Mustafa Ali and more.
I'm loving the run that FTR is on now, but I hope they get at least one more run in WWE before they call it a career. If they want to ever return that is. Even if they don't, they will go down as one of the best tag teams to ever step foot in a wrestling ring by the time they're done. I think they're one of the best ever right now.
That will do it. I just wanted to write about the greatness that is FTR because I don't think we will ever see a run like the one they're on ever again. At least not for a while. From The Revival to FTR. Classics with DIY, The Young Bucks, The Briscoes, New Day, and countless others. If you are watching FTR right now, be grateful because they are once-in-a-lifetime talents and we should all marvel and enjoy it while we can.
Thanks for reading. Check out my TJRWrestling writing archive here. I'm on Twitter @GiftedMoney talking about wrestling among other things, so feel free to message me on there with any thoughts or comments. Until next time.