AEW Full Gear 2022 Recap: 5 Thoughts
AEW Full Gear 2022 took place on Saturday night and it was a pretty good night of wrestling action.
My previous favorite AEW Pay-Per-View was probably All Out 2021 but I think Full Gear blew that one out of the water as far as action goes. It still wasn't perfect, but it had its share of great matches and memorable moments that made for a solid show. I have some thoughts so let's get into it.
#5: JAMIE HAYTER WINS THE INTERIM WOMEN'S CHAMPIONSHIP
First of all, I hate the Interim label. You're either the Champion or you're not. Jon Moxley's run from the summer until All Out and Toni Storm's run from All Out until Full Gear were the two best title runs in AEW in forever and both are officially not recognized by AEW. It's stupid. That said, the match was entertaining and physical with a lot of intensity toward the end. I could've done without the Britt Baker interference but it was alright.
Hayter needed the win here. She had the crowd support and Toni had done all she could with the limitations that AEW places on its women's division. I just hope they end this interim stuff soon so Jamie's run can be officially recognized. It seems a feud with Baker may be on the horizon, but I wouldn't be surprised if Saraya is holding that title by Double or Nothing next May. It's the CM Punk method of the women's division.
#4: THE ACCLAIMED RETAIN THE WORLD TAG TEAM TITLES
The Acclaimed, as many expected, defeated Swerve in Our Glory after Keith Lee walked out on Swerve. It's not unexpected as most people expected The Acclaimed to win. They're still hot right now so you keep riding with them. I think Keith Lee and Swerve are probably heading for a showdown at Winter is Coming. I don't see them stretching this all the way until Revolution in March so it'll probably be blown off sometime around the new year.
As for The Acclaimed, a match with FTR seems logical. FTR has warranted a shot at the World Tag Team Titles since April and everybody has gotten title shots except them. That should change soon and I think The Acclaimed and FTR will put on a banger of a match when the time is right. The Acclaimed are the hot hand. Billy Gunn is the most over he's been since the prime years of the New Age Outlaws. Keep the momentum going.
#3: SARAYA WINS FIRST MATCH IN FIVE YEARS
Saraya finally stepped back into the ring on Saturday to defeat Britt Baker. The match was pretty good considering it's Saraya's first in five years. Britt Baker is the face of the AEW Women's division and did her part to carry Saraya through most of the match. I figured Saraya would win since this is her first match back.
As I stated above, I feel like Saraya will have her Women's Title match around Double or Nothing once the Hayter/Britt feud draws to a close. I think she's going to win it, too. AEW is probably paying her a lot of money. They're going to put the title on her. Or they might do it when AEW makes its debut in England in 2023. That would make for an obvious story. Saraya looked a little rusty, but that is to be expected. I'm sure she will get better as time goes on.
#2: DEATH TRIANGLE RETAINS THE TRIOS TITLES
#TheELITE are BACK!!!@youngbucks@KennyOmegamanX

Watch #AEWFullGear LIVE on PPV right now
🔗https://t.co/ufkkXQTkk6pic.twitter.com/uE8VrR04eb

— All Elite Wrestling (@AEW) November 20, 2022
Full Gear was all about the return of The Elite (Kenny Omega & The Young Bucks). They missed the last two months because of a suspension, but they returned in style with "Carry On Wayward Son" as their theme and the crowd loved every minute of it. You would think it would telegraph a win for the Elite to regain those Trios Championships until The Elite lost due to Fenix nailing Kenny Omega with that hammer for the win. They'd teased that hammer usage for weeks so I'm glad they paid it off. It was the reverse of the Swerve/Lee angle where Lee threw the object down that Swerve wanted him to use.
Afterward, it was announced that Death Triangle, who should now be firmly in the heel territory, and The Elite, will compete in a best-of-seven series. I believe The Elite will emerge from that series as the new Trios Champions (the seventh match is in LA, which is the Young Bucks home turf), but anything can happen. I thought the match was great and served its purpose. You could tell fans missed The Elite and AEW will benefit from having them back on television. The fans don't want to boo them so it is smart to bring them back as babyfaces. I'm not sure I'm going to enjoy seeing these teams square off six more times in the next two months, but we'll see how it plays out.
#1: MJF WINS THE WORLD TITLE
In a move I think everybody saw coming, MJF wins the AEW World Title with the help of William Regal. You kind of saw a swerve coming and I think most people figured Regal would play a part. Moxley had MJF in the choke with MJF tapping, but the referee was out. Regal told Moxley to wake the referee up and as he crawled over, Regal slid the brass knuckles to MJF, who used them to knock Moxley out. I thought it was well booked. It made sense and it gets the title onto MJF. Thanks to Regal's betrayal, MJF has the whole BCC to deal with.
I'm enjoying MJF so far since he came back two months ago. I hope he wrestles more now that he's the AEW World Champion, but I doubt he will. I think it's smart booking to give the belt to arguably your hottest commodity right now. Dynamite last week scored the lowest viewership in months. With The Elite back and MJF as AEW World Champion, I think it's smart to shake things up. I think MJF will bring viewers back to the show because he is a legitimate draw. Can they remain consistent? Time will tell.
ADDITIONAL THOUGHTS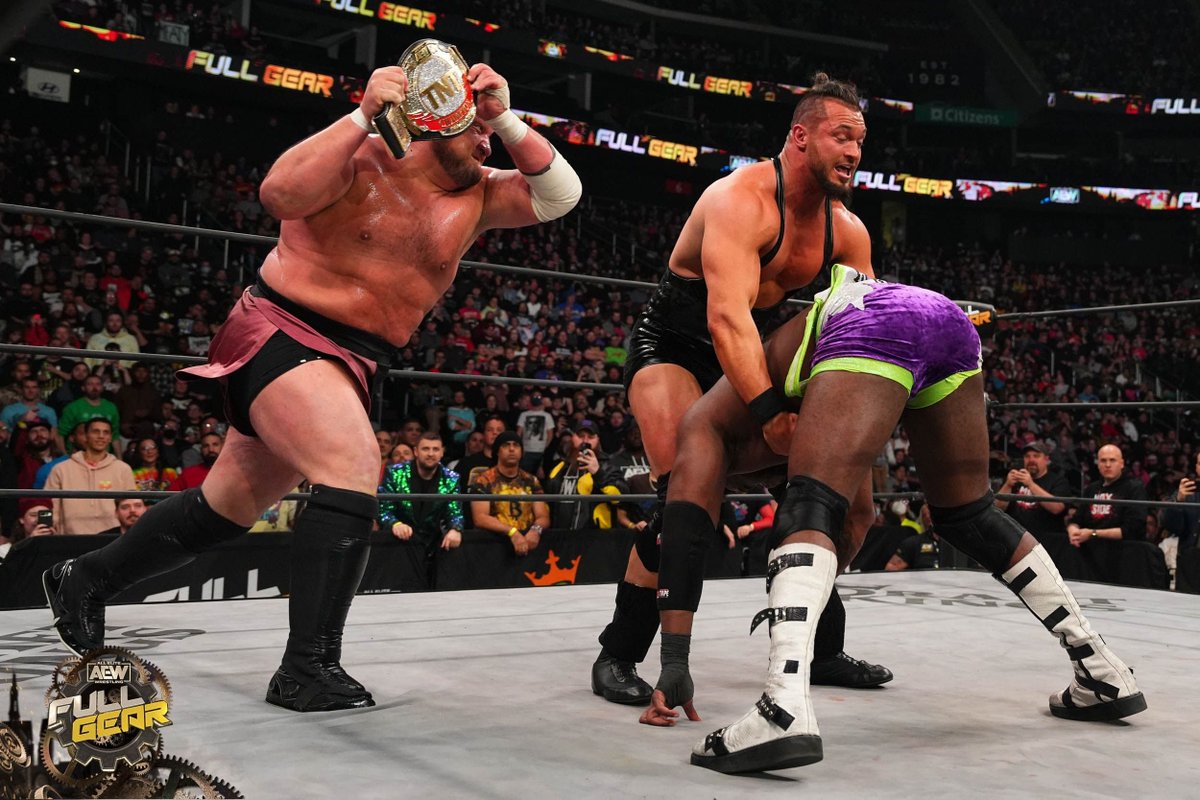 Chris Jericho retained the ROH World Title is the result that many of us expected. I hope this ROH stuff has an endgame because it is not getting anybody over except Jericho, who doesn't need it.
Samoa Joe won the TNT Title in surprising fashion. I thought he was just there to take the pin. I guess they might be clearing Wardlow for a match with MJF although I wish Wardlow's reign was booked better.
Jade Cargill retained her TBS Title in an okay match. I loved the Eddie tribute by Nyla and Vickie. Jade is a star, but I think she's outgrown that TBS Title.
Jungle Boy defeated Luchasaurus. Most of us expected it. It was a very entertaining cage match. Hopefully, Jungle Boy moves on now.
Sting and Darby defeated Jeff Jarrett and Jay Lethal. Do we need Sting and Jarrett in 2022? We didn't in 2000. We didn't in 2006. I fail to see why we needed it here.
I thought Full Gear was a very enjoyable show that set the stage for some interesting months ahead. I'm interested to see how the best of seven plays out and what's next for talents like MJF and Saraya.
===
Thanks for reading. Check out my TJRWrestling writing archive here. I'm on Twitter @GiftedMoney talking about wrestling among other things, so feel free to message me on there with any thoughts or comments. Until next time.